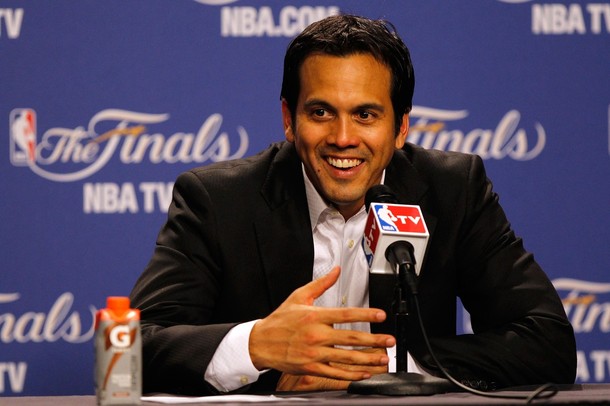 The leadership in NBA front offices can often make questionable decisions that are tough to understand by those on the outside. But choosing to extend the contract of a young head coach that has led your franchise to back-to-back titles is about as easy as it gets.
From Adrian Wojnarowski of Yahoo! Sports:
Two-time NBA championship coach Erik Spoelstra is finalizing a multiyear contract extension with the Miami Heat, league sources told Yahoo Sports.

Spoelstra could've become the most sought free agent to hit the coaching market since Phil Jackson, and likely staved off a bidding war next summer by choosing to re-sign with the only franchise he's ever known.

The deal is expected to be made public before the start of the Heat's training camp in the Bahamas this week, sources said.
This was an inevitability, and it's no surprise that the Heat made sure this loose end was tied up before training camp started.
It's not expected that the trio of LeBron James, Dwyane Wade, and Chris Bosh will break up the band after the season, but they all have that option. There was no way the franchise would allow any uncertainty at the head coaching spot to be even a small factor in those decisions, so Miami did the obvious by locking up Spoelstra with a well-deserved extension.