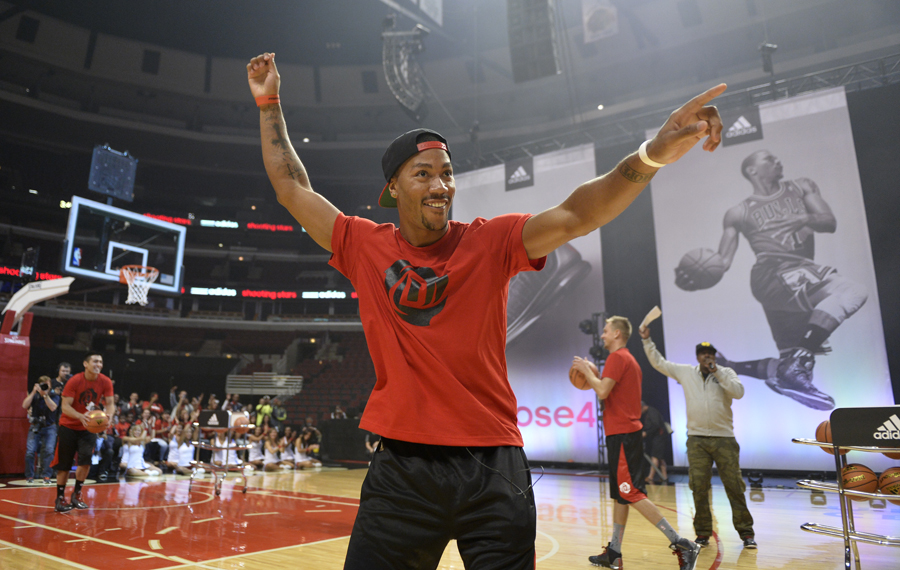 CHICAGO — The Bulls are expected by many to be among the top teams in the Eastern Conference when factoring in the return of Derrick Rose. But while teams like Brooklyn, New York, and Indiana added talent through trades or free agency, Chicago lost a couple of guys who helped the team make its playoff run a season ago, without making any major roster additions.
Rose, however, believes that the chemistry in place on his team might be enough of an advantage to get them to the top of that heap, while the others are busy trying to make the new pieces fit together.
"I think we're up there," Rose said, when asked where the Bulls stack up while speaking to reporters at the launch event for his latest signature shoe from adidas. "We really didn't make any big moves like some teams but with the chemistry that we have, I think in the sport of basketball that can take you pretty far. Some of those teams that you named are just getting guys, and you've got to get familiar with playing with a teammate."
There are new faces almost everywhere you look at the top of the East — the Pacers will be getting Danny Granger back, and added some depth to their bench in Luis Scola, Chris Copeland, and C.J. Watson. The Heat are taking a chance on Greg Oden and Michael Beasley as players who could similarly help their cause in reserve roles.
The Knicks, meanwhile, traded for Andrea Bargnani, and added Metta World Peace and Beno Udrih. And the Nets, of course, traded for Paul Pierce and Kevin Garnett to add to an already star-studded starting lineup.
Rose will take his guys over what most believe may be more talented squads overall. He praised his team for the way they battled while he was out all last season, and feels that no matter how long it takes him to once again get comfortable with playing games that count at NBA speed, he has the right players next to him that can get the job done while he's adjusting.
"I said previously that it could take one game, five games, 10 games — who knows," Rose said. "That's why my teammates are there. They've been playing basketball for a long time. They [played] a whole year without me. They learned how to win games without me.
"You have players like Joakim Noah who's played through injuries, you have Luol Deng who had to get a spinal tap — players like that who do everything they have to do just to get us into a great position. For me to come back to a team like that, that's learning how to win games, missed me for a whole year, and just getting adjusted to those players and just getting adjusted to the game, I think we have the right group for that."
After the adidas event had concluded, Rose reiterated to reporters what was used as the lead quote in the cover story that appears in the latest issue of SLAM.
"My only goal is to win a championship," he said. And if it's going to happen, the on-court relationship he has with his teammates will be among the main contributing factors.
"We've been around each other for three years already, so I think chemistry is going to take us far in the season," Rose said. "But we've got to still take it one game at a time."