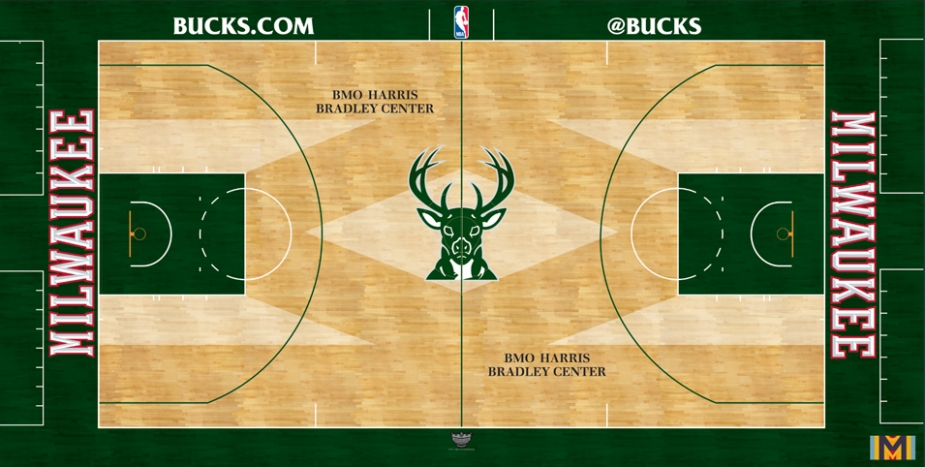 The Bucks unveiled a new court design during an event held at the Milwaukee Art Museum on Tuesday, and if you're familiar with the history of the franchise, then the floor's look may bring back some memories.
The Bucks had the team's original play-by-play announcer Eddie Doucette on hand to help with the introductions, and current players John Henson and Larry Sanders did the honors of peeling back the curtain.
"I think it's awesome," Sanders said. "We can win on that right there. I think they did a great job."
If you look closely from the baseline angle, you'll see that the lighter wood grain shades carve out a capital 'M' on each side of the floor — just as the iconic 1977 version did when the Bucks played at Milwaukee's MECCA.
From the official release:
A renowned pop artist famous for his "LOVE" artwork, Indiana created the design for the Bucks court that was used at the MECCA Arena from 1977-87. Indiana's original floor, with bright colors and a giant "M" flanking each side of the midcourt line, is recognized as one of the largest pieces of pop art ever produced and brought international recognition to Milwaukee as a progressive, forward-thinking city that appreciates art as much as it does sport.
The court was assembled, sanded, and painted at the Bradley Center, and appears to be ready to go for the upcoming season.