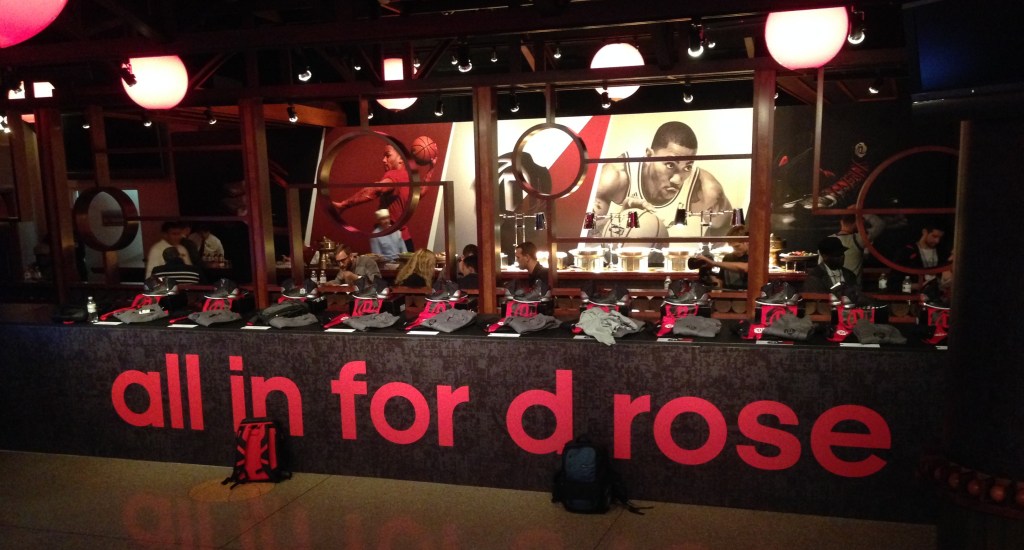 CHICAGO — There's an excitement level that seems palpable surrounding the return of Derrick Rose to the NBA this season, and that feeling is intensified even more in the city of Chicago, where adidas held a monster of a launch event for Rose's latest signature shoe, the D Rose 4.
The United Center was where it all went down, and a large media contingent, thousands of high school-aged kids, rapper Big Sean and Rose himself were all in attendance for what was an overwhelming show of support for one of the game's most exciting and explosive players.
The event began in a space normally used as a private lounge on game days, but adidas transformed the area deep inside the arena into a showcase of the latest gear in the D Rose collection.
Once we spent some time checking out the gear and getting a few minutes to interview members of the adidas team and Rose himself, it was time to head into the arena for the main event, which was essentially a giant pep rally all for one very important person.
Rose got the full game night intro treatment, and briefly addressed the crowd before things got started.
The afternoon's show included performances from Big Sean, whose songs (if you're unfamiliar) are thick with R-rated lyrics that he managed to edit out as much as possible during the live versions. A funny moment came in the middle of one of his final songs, when even he seemed surprised by the language included when forced to think about it while playing in front of a teenaged audience.
"I didn't realize there were so many cuss words," he said into the mic mid-verse.
But the kids knew every song, and even when Big Sean omitted a word or two, it could be heard easily being sung by thousands of his fans.
Highlights of the event can be seen in the clip below.
**********
The day was a celebration of Rose, but it was also about introducing his latest signature shoe to the world. Rose was so pleased with the way the D Rose 4 turned out that he had a hard time identifying just one favorite part.
"I think the whole shoe is nice," Rose said. "It's kind of like my whole personality into one shoe. The front of it is clean, you could wear it with anything if you kind of put your pant leg over it. The back is kind of crazy, just like me on the court — I play aggressive, attacking. So for them to put both sides of my personality into the shoe, I think that's what makes my shoe special."
The D Rose 4 features a tailored design, and will launch October 10 for $140 at adidas.com.
Fans can join the Derrick Rose conversation at the adidas Basketball Facebook Page and on Twitter and Instagram with @adidashoops, #DRose4.
It was truly a special event for a special player, both in terms of his on-court talent as well as his very personal connection to the city he grew up in, and the fans who can't wait to continue to show their support when they see him next — starting at point guard once again for his hometown Bulls.