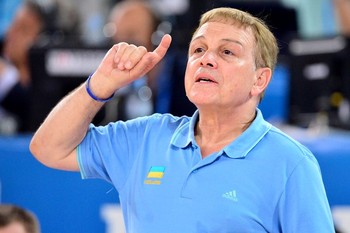 Mike Fratello coached 17 seasons in the NBA, and is currently coaching the Ukrainian team at Eurobasket in Slovenia.
He knows as much about the international coaching landscape as anyone, and believes we're not far away from seeing a European head coach land a job in the states roaming an NBA sideline.
From Mark Woods of ESPN.com:
Fratello, 66, prominent now during the NBA season as a broadcaster, has been traveling across the Atlantic in a basketball capacity for more than two decades, conducting clinics, sharing his knowledge and broadcasting games back to home.

But since his appointment with the Ukrainians in 2011, he's gotten a firsthand insight into the abilities of his European counterparts. And it is, he claims, only a matter of time before the door is kicked open for them to pursue job openings in the NBA.

"It's coming," he told ESPN.com. "We've had more people from other European countries moving into positions of prominence in the NBA in front offices. We now have people from other countries who own teams in the NBA, presidents, general managers. Assistant coaches, scouts, who represent many countries."
The most decorated European head coach in recent history, Ettore Messina, has had flirtations with NBA jobs, but has never been able to come to terms to secure a head coaching position.
Mike Brown, in his brief run as head coach of the Lakers, was able to retain Messina as a consultant for the 2011-12 season. But Messina returned to Europe to coach CSKA Moscow in the summer of 2012.
Fratello goes on to discuss the trust an NBA front office would need to have in bringing in a European head coach unfamiliar with the NBA game, due to the limited practice time available, among other things. But given the expansion of the game internationally, it's hard to disagree with Fratllo's basic assertion — a European head coach will make his way to the NBA at some point; it's only a matter of time.