The 2013 FIBA Americas tournament finished its second day of action on Saturday night. The games that were supposed to be the best ended up being the most lopsided but, on the bright side, even those games were relatively fun to watch for a weekend in August.
Saturday's featured game, according to your's truly, took place between Argentina and the Dominican Republic. Both squads are expected to qualify for next year's FIBA World Cup and therefore a step closer to a bid in the 2016 Olympics. Saturday's game showed that Argentina is going to need their big guns back if they want to make noise on the national scene, however, as Luis Scola struggled and the Dominican's dominated en route to a 91-72 victory.
Dominican Republic captain Jack Michael Martinez is known for his gritty play, nifty passing and seemingly-fun attitude and, surprisingly, he's usually able to back up his bravado on the court. He did that Saturday, anyway, to the tune of 12 points, 14 rebounds and three assists (and that's not counting a few nifty behind-the-back passes that didn't result in points). Martinez was matched up against the Indiana Pacers' Scola while wearing a crazy mask after a gnarly scratch he sustained in a game last week at the Tuto Marchand Continental Cup: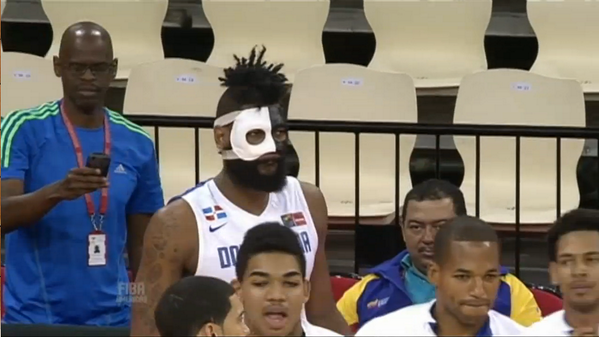 The average NBA fan has likely never heard of Martinez, but that's not because he's not talented. The big man's basketball prowess is likely going to earn a few headlines over the course of the FIBA Americas tournament and then again next summer, too, meaning it's probably time for a quick history lesson:
The 31-year-old Martinez was, at one time, the best player on the top-ranked high school team in the USA. Reporters eventually learned that he'd falsified his age on some immigration documents, however, and the older than average senior was shipped back to the Dominican Republic. There were apparently some NCAA opportunities and a few reported NBA training camp invites that came in the years to follow, but Martinez was unable to obtain a visa and instead has spent the majority of his professional career playing in Central America.
Martinez isn't the only talented Dominican, though: The Republic's only NBA player, Houston Rockets swingman Francisco Garcia, scored nine points to go with five rebounds and four blocks to offset a 3-for-11 shooting performance. Newcomer James Feldeine, a former standout at Quinnipiac before taking his talents to Spain, led all scorers with 21 points thanks to a smooth stroke from beyond the arc. Point guard Juan Coronado added 18 points, former Louisville standout Edgar Sosa scored seven as he attempts to overcome injury issues — including the gruesome knee injury suffered at this event in 2011 — and former Kentucky backup big Eloy Vargas added eight points and 11 rebounds in the starting role that usually belongs to Al Horford of the Atlanta Hawks.
Argentina's day didn't go so hot, however. Scola began the game with a pair of errant three-point attempts, having both carom off the front of the rim  — an unsurprising stat considering he's 4-for-33 from beyond the arc during his entire 468-game NBA career. It didn't get any better for the new Pacer, either, as he finished the game 13 points and seven boards after going an abysmal 4-for-18 from the field (he missed two more three-pointers along the way, for what it's worth). 23-year-old point guard Nicolas Paprovittola helped Scola by tying his team-high 13 points, but this iteration of the Argentinean team is in desperate need of some scoring.
***
There was a second solid Saturday game featuring a pair of potential champs, too, as Puerto Rico took on a Canadian squad featuring four current NBA players. Despite their tournament-high cont of NBAers, however, Canada is missing Andrew Wiggins, Anthony Bennett and Kelly Olynyk. All three would've been welcome on Saturday while Canada was overmatched en route an 83-67 defeat. The United States' neighbors to the north stuck close for the first three quarters, but Puerto Ricoe overtook them in the final stanza, outscoring Canada 24-9 score on the backs of their four best-known players.
Carlos Arroyo, J.J. Barea, Renaldo Balkman and Larry Ayuso were the only Puerto Ricans to score in the fourth quarter as they pulled away for the big win. The first three aforementioned players all have extensive NBA experience … and Ayuso is notable for being a 36-year-old chucker out of USC, though he has a couple of NBA training camp appearances in his past. Arroyo finished with 20 points, Ayuso 19, Balkman had 18 to go with his 11 rebounds and Barea finished with an inefficient 11 points on 10 shots.
Canada's two young NBA bigs played best for them, but the frontcourt didn't get enough help from the backcourt to keep the game competitive all the way to the final buzzer. Orlando Magic forward Andrew Nicholson finished with 21 points and seven rebounds while Cleveland Cavaliers post Tristan Thompson added 20 and nine, but the rest of the roster failed to score in double-digits. San Antonio Spurs backup Cory Joseph was particularly disappointing, scoring just four points on 10 shot attempts while his brother Devoe was actually worse, adding a pair of points on seven shots after getting the start. Miami Heat backup big man Joel Anthony played sparingly, picking up two points and three fouls in nine minutes on the court.
The other two games weren't as important on the world stage, but we'll give them the quick recap treatment anyway.
Uruguay 68, Jamaica 66 — This was essentially a matchup to decide whether it'd be Uruguay or Jamaica being the team eliminated in the first round of pool-play in Group A and, barring something strange happening, it looks like Jamaica will be on the outside looking in when it comes time to begin the next round. That's a shame, too, considering they actually have a decent team with a few recognizable names.
Uruguay was led by Esteban Batista, a former backup big with the Atlanta Hawks and an absolute double-double machine when it comes to international basketball in the Americas. The 6'10 center led the game in both scoring and rebounding, piling up 22 points and grabbing 14 rebounds (seven on the offensive end). The only other considerable contribution on Uruguay's side came from Leandro Garcia as the 6'2 guard scored 20 points thanks to 4-of-6 shooting from beyond the 3-point arc.
Jamaica's roster features a pair of former NBA bigs, but they haven't been able to get both to play well in the same game yet. Saturday was Samardo Samuels turn as the former Cleveland Cavaliers big man racked up 19 points and six boards, but former Knicks backup Jerome Jordan was held scoreless and missed all six of his shots in the game. Point guard Akeem Scott added 18 points while Weyinmi Rose (known as Weyinmi Efejuku during his time at Providence) added 15 points and four rebounds.
Venezuela 75, Paraguay 70 — Paraguay isn't expected to win a game this tournament and, if the USA wouldn't have turned down its bid, they wouldn't have even been eligible for the tournament. The underdogs were still able to give the host team a scare, but their upset bid ultimately fell short in Saturday's nightcap.
Venezuela misses the contributions Greivis Vasquez, Gregory Echinique and Oscar Torres, but the healthy members left on the roster have been together for a few years now. 35-year-old Axiers Sucre led the team in scoring with 15 points to go with nine rebounds and Gregory Vargas added 14. The player that was supposed to be  a star has yet to be spectacular, however, as former Atlanta Hawks swingman Donta Smith had a rather quiet 14 points while going just 1-for-5 on his shots from beyond the arc.
Sunday's schedule includes Canada playing Brazil along with three likely blowouts: Mexico vs. Paraguay, Dominican Republic vs. Venezuela and Puerto Rico vs. Uruguay.