Matt Barnes has never been shy about voicing his opinions, even when they're unsolicited. But diving head first into the comments on a photo posted to Nick Young's Instagram for no apparent reason sure seems like an odd decision.
Then again, Barnes is no stranger to those, either.
The story goes like this: Young posted a photo of the Lakers' practice facility, with a caption that read "That's what's it all about #Ships."
The photo had received over 15,500 likes, and several comments from Lakers fans in support of one of their team's free agent acquisitions.
Barnes, a former Laker who is now entering his second season with the Clippers, apparently wasn't down with all the pro-Lakers talk. So he chimed in with a comment of his own, captured by Phillip Barnett of Lakers Nation.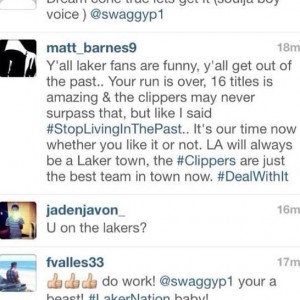 We know this came from Barnes because the Instagram account he used is the same one he links to from his verified Twitter account.
As for the comments themselves, there was nothing too inflammatory, really. The Clippers are expected to contend for one of the top spots in the Western Conference, while most are wondering if the Lakers will simply make the playoffs.
But as Barnes noted, Los Angeles will always be a Lakers town — despite whatever temporary modicum of success the Clippers are able to achieve. It's just more than a little strange that Barnes decided to hit up a fellow NBA player's social media account to get his point across.