The Suns officially unveiled their new uniforms for the upcoming season on Thursday by holding a fashion show in Scottsdale, Arizona to celebrate the occasion.
The organization had players from past teams modeling reminders of what the previous uniform incarnations looked like, before getting to the main event where the newest Suns gave us our fist look at the latest designs.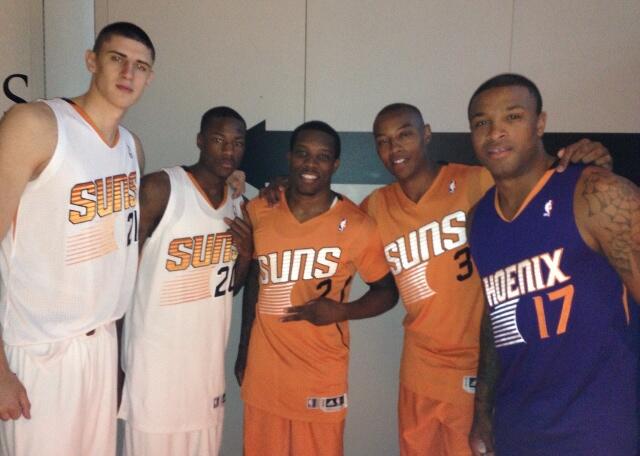 From left to right, that's Alex Len, Archie Goodwin, Eric Bledsoe, Caron Butler, and P.J. Tucker in the home whites, orange alternates (yes, they have sleeves) and the road purples.
Check out a couple more photos below, and you can relive the entire unveiling on video over at Suns.com.
Here they are.. The @Suns new uniforms!!! #sunsnewlook pic.twitter.com/ph8KNrWYeD

— Rebecca Clark (@SunsMercGirl) August 16, 2013
An up close look at the back of the home whites and @alexlen. #NewLookSuns pic.twitter.com/BoVlDiAuUD

— Phoenix Suns (@Suns) August 16, 2013