The Pistons have worn red, white and blue uniforms for years and years. It's become a classic look for one of the NBA's flagship franchises.
Aside from a brief – and misguided – foray into teal during the 90s, the Pistons have remained true to that color scheme, a point of pride for Detroit fans. Above all, the Teal Era served as a wakeup call so fans stopped taking the red, white and blue for granted. Now, they appreciate those iconic colors even more.
So, the Pistons are venturing slightly outside their comfort zone with this new "Motor City" alternate uniform, which is a significantly darker shade than the Pistons' typical blue.
See the #Pistons wear them on Sundays as part of #MotorCity Sundays at @ThePalace pic.twitter.com/glthOP1Km3

— Detroit Pistons (@detroitpistons) August 14, 2013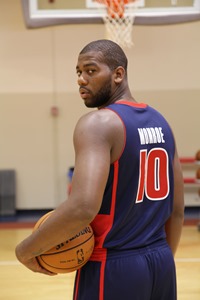 Via the Pistons
You can better see the difference in blue with the photo the Pistons released teasing the new uniform:
Another teal mistake? No way.
I really like the new uniforms.
Previously, the Pistons' alternate jerseys were red, and just for the sake of tradition, I hoped the new ones would remain red. But this is better.
The Pistons play in the suburb of Auburn Hills, but they still represent Detroit, the "Motor City," and this is a great way to instill that. The jersey is simple and clean, and the font and number styles ensure it fits with the Pistons' standard two uniforms.
If I have any complaint, it's the hollow box, with a filled box at the waistline, created by the vertical piping on the side. I think I would have preferred piping that matched their standard road uniform, but the alternates look good from the front as they are, so I could cave.
Also, want an early indicator of the Pistons' starting lineup?
Greg Monroe, Andre Drummond, Josh Smith and Brandon Jennings will almost certainly start. Maybe Chauncey Billups has an inside track on that fifth spot.
Or maybe the Pistons know the 2004 NBA Finals MVP will sell jerseys, which is really the whole point of this exercise. At least the Pistons are going about it in a very aesthetically pleasing way.