The New Orleans Pelicans officially unveiled their uniforms for the upcoming season, and the simple design is underwhelming, at best.
No sign of the Pelicans logo, and no bright or interesting color scheme. Just the city's name on the front of both the home and away jerseys, with some gold trim making its way down the sides.
Anthony Davis and Jrue Holiday were two of the players who modeled the new uniforms at the press conference (Photo via @RealGM)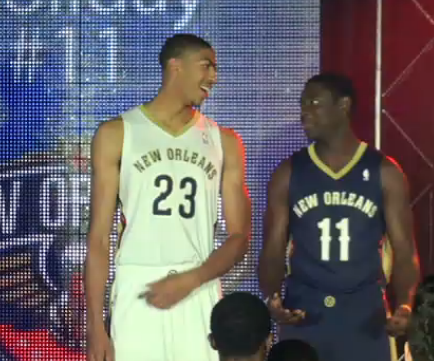 Does the simpler design work for you, or would you rather have seen something more bold? They did say during the event that the NBA doesn't allow new teams a third alternate jersey in their first season, so we can hold out hope for another year that they may go with something a little more interesting.
(And yes, we're discussing uniform designs — it's the NBA news cycle in August at its finest.)