Chris Paul is going to stay a Clipper. Dwight Howard is going to do whatever it is Dwight Howard is going to do.
But those two are not the only guys who became free agents at the stroke of midnight and we ventured into Monday.
Here are a dozen other newly minted free agents worth watching during this free agent period.
• Josh Smith: He's one of the best players in what is generally considered a down free agent class — 17.5 points and 8.4 rebounds a game. Nobody doubts that he is a good player, one that annually just misses the  All-Star cut line. The issue for him as a free agent is simply his shot selection. This chart pretty much sums it up.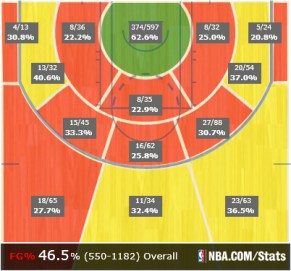 Smith is very effective around the rim but loves his jump shot. Too much. Also, Smith wants a max contract. He likely doesn't get it, the question is what will a team pay? He can be amazing if the fit is right, and that team will get some nights of good defense. The Detroit Pistons want him and another 4-5 teams are said to be interested. The question is, at what price? How much tax are you willing to pay for Smith and his penchant for jumpers?
• Andre Iguodala: Part of the glue that led Denver to 57 wins. It's not so much the 13 points a game and the 5.7 rebounds, it's the strong perimeter defense and the impressive finishing in transition. He has versatility. He's the ultimate glue guy. He opted out of the $16 million to get the security of a long-term deal. But as our own Dan Feldman pointed out, the team that gives him four years (and one will) may regret that decision in a few years.
• J.R. Smith: He's the NBA's Sixth Man of the Year and a gunner without a conscience. He is perfect off the bench — he comes in and brings energy and shooting. But he is anything but consistent. The Knicks have only his Early Bird rights and are limited with what they can offer; the most is just above the league average salary (so a little over $5 million a year for at least two years). It is possible another team swoops in, the Suns, Bucks and Pistons are reportedly interested.
• Andrew Bynum: He is the real test of the new Collective Bargaining Agreement: How much are teams willing to pay a guy that two seasons ago was one of the top three centers in the league (if not the best outright), but missed all of last season with a knee injury that is chronic? Under the old CBA somebody would have overpaid, but now… There are real questions about his passion for the game, but some team will take a gamble (two or three years at $9 million per?). You can bet that contract will have an out that they can cut him and not pay him if he can't play due to a preexisting knee condition.
• Monta Ellis: He reportedly turned down two years, $24 million and he is going to regret that. Ellis is an old school volume scorer — he scores a lot of points and shoots a lot of shots. Don't expect efficiency (41.6 percent shooting overall last year, 28 percent from three). The new breed of NBA GM doesn't want a guy like Ellis and he is going to find a more shallow market than expected. That said, the Hawks and Mavericks are both reportedly interested.
• David West: The steady forward who was a key to the Indiana Pacers success (within one game of the NBA Finals) is not expected to sign anywhere but Indiana. The Pacers will make a fair offer of around $10 million per season, but this is going to be a short-term deal, likely just a couple years. West is 33, he's not getting four years.
• J.J. Redick: His half a season in Milwaukee taught him he wanted out of Milwaukee. He's one of the best pure shooters in the league and has worked to improve other parts of his game (for example, his defense is better than you think). He's going to get a nice contract from someone who needs a two who can space the floor.
• Kyle Korver: Another pure shooter in this draft, he's older than Redick and not quite as well rounded, but when it comes to shooting threes he is good. The early buzz is the Nets want and are in the lead to get him.
• Kevin Martin: The final sharpshooter on our list — he shot 42.6 percent from three last season for Oklahoma City, a team that could draw attention away from him. He has a very efficient offensive game, but he's not going to give you much defense. He has a role in this league as the No. 3 guy on a good team, but we'll see who steps up to pay him.
• Al Jefferson: He is a genuine NBA big man who scored 17.8 points and added 9.2 rebounds per game last season for the Jazz. He's age 28 and in his prime, so he should be expecting a big contract. And he's going to get a big contract. But he's a defensive liability on the pick-and-roll and really does his work in the post and on the boards and not much else. Someone is going to pay him then be frustrated.
• Paul Millsap: He is a restricted free agent, meaning the Jazz can match any offer. It's going to be interesting, he is a guy who comes in with almost but not quite All-Star numbers — 14.6 points on 49 percent shooting with 7.1 rebounds a game. He's solid and efficient, a poor man's David Lee kind of guy. He's the kind of guy that a GM could decide he needs after missing out on his first choice and puts up a good offer that will leave the Jazz in a pickle.
• Brandon Jennings: Another restricted free agent (the Bucks can match) who is going to get the kind of offer that will leave the Bucks in a tough spot. He's a score first point guard (he did have 6.5 assists per game, to be fair) but he doesn't score efficiently. He shot under 40 percent last season and he struggles to finish in the paint, which makes that amazing first step and quickness less frightening. I got the feeling someone is going to offer him a lot of money in hopes his game grows.
• O.J. Mayo: Another guy who can score (15.3 points per game) but doesn't do it efficiently and had Rick Carlisle so frustrated last year he called him out on a couple of occasions. He can score so he will land somewhere, but he's not loved by GMs. The advanced stats teams are not going near Mayo but somebody will and they will get what they get with him.