Which of these players would you have most liked on your team last season: Andres Nocioni, Baron Davis, Brendan Haywood, Charlie Bell, Chris Mihm, Corey Maggette, Damien Wilkins, Earl Watson, Elton Brand, Fred Jones, Hedo Turkoglu, Joel Przybilla, John Salmons, Lamar Odom, Mehmet Okur, Metta World Peace, Michael Redd, Rashard Lewis, Rasual Butler, Ricky Davis, Ronald Murray, Stromile Swift, Tracy McGrady, Trenton Hassell or Walter Herrmann?
It's hardly an inspiring list. World Peace was an alright starter for the Lakers. Brand took a lesser role with the Mavericks, and though his production slipped from previous years, it was still pretty good. Lamar Odom fit in well as a Clippers backup. Otherwise, the list is comprised of bit players or guys out of the NBA.
But all those players have something in common. They were 29 years old during the 2008-09 season. Four years later, they're not nearly as appealing.
It's a lesson to keep in mind as teams pursue Andre Iguodala, who opted out of the final year of a contract that would have paid him more than $16 million in order to seek a long-term deal.
Iguodala is an excellent defender and great in transition, two skills that typically don't age well. He's a good passer and a passable shooter, so it's unlikely he'll completely fall off the map, but any team pursuing him won't be doing it for his passing and shooting.
A larger sample provides a reasonable expectation for Iguodala. Between the 1999-00 and 2008-09 seasons, 274 players have played a season at 29 years old. Here's how their production, as measured by win shares, progressed from their 29-year-old seasons into the four following (adjusting for the lockout shortened 2011-12 season):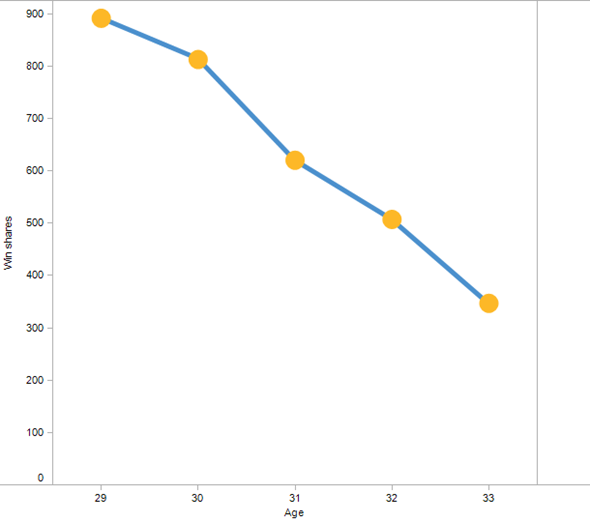 If Iguodala declines at the same rate – and the cracks already began to show last season, when his win-share total fell to 5.6 – his production will mirror, in order, the 2012-13 production of Tony Allen then Corey Brewer then Wayne Ellington then Evan Turner during the next four years. These aren't stylistic comparisons, just using current players to set a comparison in production only.
Of course, this method for determining expected value includes players who fell out of the NBA counting as zero, but that's intentional. Quite often, players can no longer play at an NBA level as they get into their 30s. We see the players like Steve Nash who defy age and remember them, forgetting about players like Chris Mihm who fall by the wayside. That inaccurately shifts our perception of how big a deal age is in the NBA.
I don't expect Iguodala to fall out of the league before his next contract ends, even if it lasts four years, because he'd be beginning the deal with a higher starting point. But the relative decline of lesser players still informs an expected track for Iguodala.
Iguodala has plenty of value, and a team looking to win right now might knowingly accept the risk of his contract becoming an albatross just to get his immediate production. But teams should enter long-term negotiations with that risk in mind.