SAN ANTONIO — Danny Green has been on a record-breaking tear with his three-point shooting through the first five games of the Finals, and he's been a key reason the Spurs are taking a three games to two series lead back to Miami with two chances to close the Heat out.
It isn't just the 25 makes from three-point distance that have been impressive — it's the percentages.
Take a look at Green's shot chart from beyond the arc for the series; it's as ridiculous as you might imagine.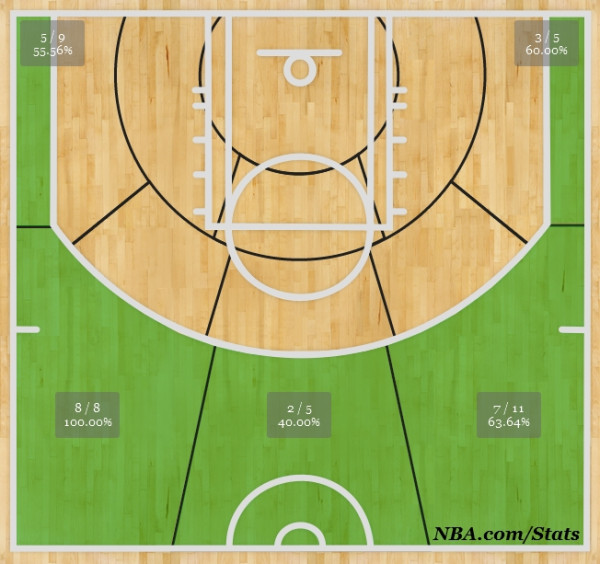 Green is 25-of-38 from three in the series, good for an insane 65.7 percent. He's been particularly deadly from left and right above the top of the arc, where 15-of-19 shooting has just killed the Heat from outside.
"Give him credit," LeBron James said after Game 5. "He's making some hell of a [tough] shots. He's also getting some stuff in transition as well. They're running a lot, and he's the beneficiary of Tony Parker's penetration. And he's getting some shots, but he's making them. Give them credit, man. He's knocking them down. Not many guys have shot the ball this well, especially in the Finals, that I can remember. We do have to do a better job like we did in Game 4 of knowing where the shooters are at all times. He got away from us a few times tonight, and he knocked them down."
Green has gotten away from the Heat for the majority of the series. And if he's able to continue to shoot remotely close to this well for even one more game, it may just propel the Spurs to the NBA title.