TREVISO, Italy — Lucas Nogueira was the player most eyes were focused on during the first day of adidas Eurocamp, not only because of his seven-foot frame, but also because he is the only international prospect in attendance who is projected to be taken late in the first round of this year's NBA Draft.
Nogueira plays with a lot of activity, and is an intelligent defender who positions himself to use his size, length, and athleticism to his advantage. He proved to be an above average rim protector, and showed an ability to block shots and hold his own while defending the low post.
There wasn't a lot of offense to his game in terms of shooting touch or strong moves inside, but he's a more than capable finisher at the rim, and did an excellent job running the floor and finishing in transition when the ball found his hands. The concerns surround only his slight stature, and whether or not his body can support the necessary bulk he'll need to add to succeed at the NBA level. But the skill set is certainly present.
Nogueira isn't expected to participate in any more of the camp's activities after his stellar showing, which included scoring 13 points on 6-of-7 shooting to go along with three rebounds and four blocked shots in his team's eight-point victory in the third game of the day.
**********
Rudy Gobert from France is one of the top international prospects expected to be taken in the first round of this year's draft, and he was scheduled to participate in one of the day's events in here in Treviso. He measured 7'2″ with a 7'8.5″ wingspan and a 9'7″ standing reach at the combine in Chicago, both of which were record numbers.
We got word this morning, however, that Gobert would be unable to attend due to illness, which he confirmed via his Twitter account.
Damn pas de trevise pour moi…viens de sortir de lhopital, intoxication alimentaire…

— rudy gobert (@rudygobert15) June 8, 2013
The translation amounts to "Damn no Treviso for me … just got out of hospital food poisoning." Several hours later, he posted in English this time, saying "Feeling better, back to work," however no word yet if that means he might have had a change of heart and will end up at Eurocamp before Monday's final day.
**********
Dante Exum is a 6'4″ guard who is of major interest to NBA scouts and executives, just not for this year's draft. The Australian prospect is believed to possess a skill set that has him projected to be a top five pick in 2014, but while he was in attendance for Eurocamp's first day, a stress fracture in his foot prevented him from participating in any of the drills or games.
Exum did go through a private shooting session, and seemed to show a smooth stroke from all distances, including three-point range. But it was a very light workout, so no one really got an opportunity to see what he might be able to do in Treviso.
**********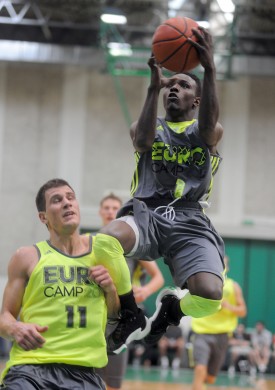 Aquille Carr is a high school prospect from Princeton Day in Maryland, and is the rare Eurocamp participant from the United States. Carr is here on the advice of his agent, in order to try to impress the international community enough to earn a spot in the Euro League next season.
Carr is listed at 5'6″, though he's even smaller than that in person. For better or worse, the Nate Robinson comparisons will be inevitable due to the way he plays the guard position, using his speed and athleticism to try to get into the paint to create for himself or his teammates.
Carr showed confidence in handling the ball while pressured defensively, but he struggled on the opposite end of the floor to slow the bigger and stronger players he was matched up against at the point guard position.
He managed to remain positive throughout a first day which may have been tougher than expected, and consistently exhibited the qualities of a good teammate while on the bench.
**********
Giannis Antetokounmpo is a prospect from Greece who is projected as a late first-round draft choice, even though many in NBA circles had yet to see him play in person. That changed on Saturday, but not because Antetokounmpo was at Eurocamp — he was playing in a tournament with the Greek under-20 team in Jeselo, Italy, and most teams in attendance in Treviso made the 45-minute drive to finally see him in the flesh.
**********
Links to the box scores from all three of the relevant games from Day 1 are below, and they're worth checking out just to see how much more information they contain than those in their NBA counterparts.
One quick note on the last game of the night, between the "All-Stars" and the USA Select team. The All-Star team wasn't nearly that, considering most of the camp's best players had already participated in one of the day's previous games. And with the European squad having 3-4 years of size, strength, and experience on their opponents from the states, the result was a predictable one given the mismatch.
But Alex Robinson, a point guard from Timberview high school in Arlington, Texas, definitely seems to have all the tools to excel at the next level if he continues to develop. Quickness, strength, court vision, and athleticism were all in place.
adidas Eurocamp Game #3 – TEAM 1 vs. TEAM 4 (Day 1)
adidas Eurocamp Game #1 – TEAM 2 vsTEAM 3 (Day 1)
adidas Eurocamp Game #4 – ALL-Star vs adidas USA Select (Day 1)