It's not the Pacers. It's not the Bulls. It's not the Bucks.
At this point, it's Dwyane Wade.
Wade is struggling to score in these playoffs, and his knee seems like a logical explanation. He's not moving particularly well, and that hasn't changed regardless of opponent.
Three of Wade's four lowest-scoring playoff series have occurred in 2013.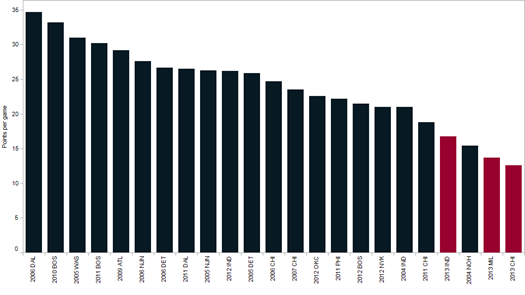 Wade is scoring fewer points per game and per minute and attempting fewer free throws per game and per minute than any other postseason in his career. He's struggling to create for himself, though LeBron James is keeping the Heat afloat.
LeBron has become an absolute offensive terror inside. He's shooting 69-for-
97 (71.1 percent) in the restricted area during the playoffs. Nobody else in the top 50 of shooting percentage in the restricted area has attempted as many shots there as LeBron has made.

Part of the reason LeBron has been so successful near the rim is Miami's outside shooting spaces the floor for him. The Heat have attempted 3-pointers on a higher percentage of their playoff shots than any other conference finalist.

But Wade doesn't help there. He's taken only one 3-pointer in the entire post season.

That partially explains why the Heat have a better offensive rating when LeBron plays with Shane Battier (111.3), Mario Chalmers (111.3) or Ray Allen (115.9) than with Wade (110.0).

There's no doubt Wade is more talented than Battier, Chalmers and Allen, but if Wade can't show it, he's not the best fit with LeBron.

This puts even more pressure on Chris Bosh. When Wade shoots 5-for-15 in Game 4, Bosh scoring a playoff-low seven points on 1-of-6 shooting won't cut it.

Bosh and LeBron are good enough to carry an ailing Wade into the NBA Finals if they're firing on all cylinders, and that might be what they need to do.
Backs against the wall, Celtics play dominant half to beat Heat, force Game 6
Andrew D. Bernstein/NBAE via Getty Images
Leave a comment
For Boston, it was the worst of halves, it was the best of halves. It was a half of foolishness, it was a half of wisdom. It was a half of tight play, it was a half of free-flowing offense. It was a half of despair, it was a half of renewed hope.
With its season on the line down 3-1, Boston came out tight in the first half of Game 5, with guys trying to do everything themselves, showing no patience, no ball movement, players gunning from three, and nobody in green was defending well. Boston shot 5-of-20 in the first quarter, and while things settled down Boston was lucky to be only down seven at the half.
Then a different Boston team came out in the second half — a team that was defending with intent, pushing the pace, and watching their best player, Jayson Tatum, attack to the tune of 17 third quarter points. At the end of the third, Brad Stevens told his team, "with all sincerity, that's the first time I've seen Celtics basketball in the past few games" (via the ESPN mic'd up segment of the broadcast).
The Celtics pulled away in the fourth to win 121-108. The Heat still lead the series 3-2, with Game 6 coming on Sunday.
"We did not compete hard enough defensively and we paid the price for that," Erik Spoelstra said of his Heat team.
"I thought we played with great tenacity defensively, and I think our offense followed suit," Celtics coach Brad Stevens said of the second-half turnaround.
That defense included much more ball pressure out high on Miami and it worked. The Heat shot 19.4% from three, that's the third straight game under 30% from three for the Heat, but Tyler Herro wasn't able to bail them out this time around.
For Boston, Tatum finished with 31 points and 10 rebounds, and his third quarter helped save the Boston season.
JT taking over the 3rd.#Celtics pic.twitter.com/b3vk7b7Wgr

— Celtics on NBC Sports Boston (@NBCSCeltics) September 26, 2020
Boston needs that Tatum from the opening tip on Sunday, not after 24 minutes (as we have seen the last couple of games). Boston is a good team but it needs Tatum to play at an All-NBA level to look like a contender.
Jaylen Brown added 28 points for the Celtics, while Daniel Theis proved an important role with 15 points and 13 rebounds plus some critical defensive plays down the stretch.
Miami may have led at the half, but when Boston started playing better out of desperation the Heat had no answers.
"No one was playing the way we're supposed to play, the way we have to play for us to win," Butler said.
Miami got 23 points from Goran Dragic and 20 from Duncan Robinson, who was a big part of Miami's strong first half.
Miami was up 3-1, and they have seen how little that lead has meant in the bubble.
"I don't think those series have anything to do with this. Our guys are well aware," Spoelstra said. "We have great respect for Boston. We're not expecting it to be easy. You have to earn it."
Kings keeping Luke Walton, plan to play faster next season
Ashley Landis-Pool/Getty Images
Leave a comment
Kings coach Luke Walton works for a general manager who didn't hire him and an owner who has shown frustration with him.
But Walton will keep his job.
New Sacramento general Monte McNair, via James Ham of NBC Sports California:
"Luke is going to be our coach next year, I'm really excited to work with him and I think we're aligned in our vision and we're going to start implementing it," McNair said.
"This team showed some flashes last year," McNair said. "I think De'Aaron is certainly a great young talent and I think his speed ability offensively to create really is going to be a huge catalyst for how coach Walton and I envision this team being up-tempo, creating the space to shoot threes and attack the rim."
Walton has had four losing seasons in four years as a head coach between the Lakers and Kings. But this is how it works out for him.
A distressing aspect of Walton's first season in Sacramento: The Kings played far slower than they did the previous season under Dave Joerger, who successfully implemented a fastbreak-heavy attack that particularly suited De'Aaron Fox.
Walton can coach that way. His Lakers teams typically played quickly. But Sacramento too often stagnated last season.
The Kings are still building around Fox. It's on Walton to figure out how to maximize the point guard. For now.
Anthony Davis listed as questionable for Game 5 with sprained ankle
AAron Ontiveroz/MediaNews Group/The Denver Post via Getty Images
Leave a comment
When Anthony Davis has been on the court in the Western Conference Finals, the Lakers have outscored the Nuggets by 9.4 points per 100 possessions. When he sits, the Lakers are -21.3 (stats via NBA.com).
Why that stat matters: Anthony Davis is officially questionable for Game 5 after spraining his ankle in the fourth quarter of Game 4.
Anthony Davis sprains left ankle!#NBAPlayoffs #NBA #LakeShow #MileHighBasketball #LALvsDEN #WholeNewGame #WCF #Lakers #Nuggets pic.twitter.com/31cR7V4bk7

— BasketballBuzz (@basketballbuzz) September 25, 2020
"[My] Ankle feels fine. Got tonight, tomorrow before the game to get it back to, I don't want to say back to where it was, but good enough to play," Davis said postgame Thursday. "Rolled it pretty bad but not too bad. I'll be fine."
Players also are the worst judges of their returns from injuries. This is the playoffs, the Lakers need him on the court, and Davis wants to play. However, ankles are very easy to re-injure once the ligament is stretched, and the issue can become chronic. If Davis missing one game helps the ankle heal to the point it doesn't linger into the NBA Finals the Lakers have to consider that option.
That said, expect Davis to play.
Davis has been the best Laker throughout the Western Conference Finals. He is averaging 32.3 points a game while shooting 55.3% from the floor, and as noted above the Lakers are dramatically better with him on the court.
The Los Angeles Lakers are up 3-1 on the Denver Nuggets and can advance to the NBA Finals with a win Saturday night in Game 5.
Klay Thompson back on practice court with Warriors Friday
Noah Graham/NBAE via Getty Images
Leave a comment
The last time Klay Thompson was on an NBA court, it was Game 6 of the 2019 NBA Finals when an ACL tear both ended those playoffs for him and caused him to miss all of this season.
Friday, Thompson was back on the court.
The three-time champion and five-time All-Star cleared quarantine and was in the "Dubble" where the Warriors are conducting a two-week minicamp at their facility to help prepare for next season (whenever that starts).
No. 11

The Dubble || @NetSuite pic.twitter.com/WPE3HrHQDM

— Golden State Warriors (@warriors) September 25, 2020
It's a good sign. When next season starts, the Warriors hope he, Stephen Curry, and Draymond Green are all healthy and running at 100%.
Another good sign for the Warriors, Kevon Looney has been working out and reportedly looking good at the Warriors minicamp (take all the "he looks great" reports with a grain of salt, but the fact he is on the court is a good sign).
Looney played through injuries in those 2019 Finals, and has missed parts of four of his five NBA seasons due to injuries — he played just 20 games last season and had surgery on his core in May. It led to whispers around the league he may never again find his form as a quality role player. If Looney can stay healthy — coach Steve Kerr said he went "full bore" at the team's first practice — he becomes a solid, athletic interior presence the Warriors need to balance their elite perimeter players.