It's not the Pacers. It's not the Bulls. It's not the Bucks.
At this point, it's Dwyane Wade.
Wade is struggling to score in these playoffs, and his knee seems like a logical explanation. He's not moving particularly well, and that hasn't changed regardless of opponent.
Three of Wade's four lowest-scoring playoff series have occurred in 2013.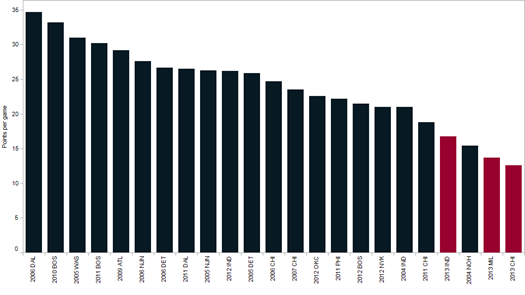 Wade is scoring fewer points per game and per minute and attempting fewer free throws per game and per minute than any other postseason in his career. He's struggling to create for himself, though LeBron James is keeping the Heat afloat.
LeBron has become an absolute offensive terror inside. He's shooting 69-for-
97 (71.1 percent) in the restricted area during the playoffs. Nobody else in the top 50 of shooting percentage in the restricted area has attempted as many shots there as LeBron has made.

Part of the reason LeBron has been so successful near the rim is Miami's outside shooting spaces the floor for him. The Heat have attempted 3-pointers on a higher percentage of their playoff shots than any other conference finalist.

But Wade doesn't help there. He's taken only one 3-pointer in the entire post season.

That partially explains why the Heat have a better offensive rating when LeBron plays with Shane Battier (111.3), Mario Chalmers (111.3) or Ray Allen (115.9) than with Wade (110.0).

There's no doubt Wade is more talented than Battier, Chalmers and Allen, but if Wade can't show it, he's not the best fit with LeBron.

This puts even more pressure on Chris Bosh. When Wade shoots 5-for-15 in Game 4, Bosh scoring a playoff-low seven points on 1-of-6 shooting won't cut it.

Bosh and LeBron are good enough to carry an ailing Wade into the NBA Finals if they're firing on all cylinders, and that might be what they need to do.
NBA playoffs schedule 2020: Date, time, matchup for every game
AAron Ontiveroz/MediaNews Group/The Denver Post via Getty Images
Leave a comment
And there were four.
The NBA is down to the conference finals — and the bubble has provided us with upsets galore. There are some unexpected teams in the NBA's Final Four, but of course LeBron James is still there. The Lakers are the heavy favorites at this point.
Here are a few notes on the NBA playoffs schedule 2020:
• The NBA is continuing to push the pace with games every other day — except in the East, when ESPN wants a break not to clash with the NFL, and to let the West catch up. The fast pace of games will return with the NBA Finals.
• Families for the players, and with the final four now the coaches, are in the bubble.
• The NBA Finals will begin on Wednesday, Sept. 30, if Miami closes the Easter Conference Finals out in six games. If the series goes seven games the Finals will start on Friday, Oct. 2.
Here is the NBA playoffs schedule 2020 (all times are Eastern):
EASTERN CONFERENCE FINALS
Game 1: Heat 117, Celtics 114, OT
Game 2: Heat 106, Celtics 101
Game 3: Celtics 117, Heat 106
Game 4: Heat 112, Celtics 109
Game 5: Celtics 121, Heat 108 (Miami leads series 3-2)
Game 6: Sept. 27, 7:30 p.m. (ESPN)
Game 7: Sept. 30, 8:30 p.n. (ESPN)*
*If necessary
WESTERN CONFERENCE FINALS
Game 1: Lakers 126, Nuggets 114
Game 2: Lakers 105, Nuggets 103
Game 3: Nuggets 114, Lakers 106
Game 4: Lakers 114, Nuggets 108
Game 5: Lakers 117, Nuggets 107 (Lakers win series 4-1)
NBA playoffs schedule 2020: Second Round results
Eastern Conference
No. 3 Boston beat No. 2 Toronto 4-3
No. 5 Miami beat No. 1 Milwaukee 4-1
Western Conference
No. 1 Los Angeles Lakers beat Houston 4-1
No. 3 Denver beat No. 2 Los Angeles Clippers 4-3
NBA playoffs schedule 2020: First Round results
Western Conference
No. 1 Los Angeles Lakers beat No. 8 Portland 4-1
No. 2 L.A. Clippers beat No. 7 Dallas 4-2
No. 3 Denver beat No. 6 Utah 4-3
No. 4 Houston beat No. 5 Oklahoma City 4-3
Eastern Conference
No. 1 Milwaukee beat No. 8 Orlando 4-1
No. 2 Toronto beat No. 7 Brooklyn 4-0
No. 3 Boston beat No. 6 Philadelphia 4-0
No. 5 Miami beat No. 4 Indiana 4-0
LeBon James takes over, leads Lakers to NBA Finals with win
Leave a comment
The Denver Nuggets had come back from 3-1 down twice in these playoffs.
The Denver Nuggets had never run into LeBron James.
LeBron dominated this close-out game. He scored 16 points in the fourth quarter. He put up a triple-double of 38 points, 16 rebounds, and 10 assists. Defensively he shut down Jamal Murray (who was slowed due to a bone bruise on his foot) and made smart plays.
"I don't know if I've ever witnessed a guy take over a game the way he did in the fourth quarter tonight, in person," Lakers' coach Frank Vogel said of LeBron.
LeBron did what the Jazz and Clippers had failed to do — he and the Los Angeles Lakers closed out the Nuggets in five games with a 117-107 win.
"He's had a chip on his shoulder all year long," Vogel said about LeBron. "Everybody has doubters. To be in the Eastern Conference and get there as much as he had and to come over to the Western Conference, it's an enormous accomplishment to [reach the Finals] with a third team."
The Lakers advance to the NBA Finals, which will begin Wednesday (if Miami closes the Eastern Conference Finals on Sunday) or Friday (if there is a Game 7 in the East).
LeBron James made history with the win, becoming the third player in NBA history to make it to 10 NBA Finals, joining Sam Jones (11) and Bill Russell (12) of the 1950s-60s Boston Celtics.
The Lakers pulled ahead in the first half of Game 5 because of Nikola Jokic's foul trouble — he played just eight minutes in the first half after picking up three quick ones. The Nuggets were +3 in those eight minutes and -13 in the other minutes of the first half, which had Dever down 10 at the break.
The Nuggets fought back in the third quarter, in part thanks to a monster game from Jeremi Grant who had 20 points on the night (tied with Jokic for a team high). Despite a hobbling Murray, the Nuggets did what they had done all playoffs long and refused to fold.
"What more could you ask from a group?" Denver coach Michael Malone said after the loss. "What more commitment, sacrifice, just everything in the last 82 days that our team has gone through. The history that we've made. The adversity that we faced and never ran from, embraced it… I couldn't be more proud."
Anthony Davis had 27 points for L.A. The Lakers also had role players stepping up. Alex Caruso had 11 points and was 5-of-7 from the floor. Danny Green also scored 11.
However, in the end, it was LeBron James looking like the best player on the planet.
Now he is headed to the Finals with the chance to make history and win a title with three different teams.
Lakers' Anthony Davis 'good to go' for Game 5 despite sprained ankle
Getty Images
Leave a comment
This was expected, but when the Lakers officially listed Anthony Davis as questionable for Game 5 with a sprained ankle, it raised a few eyebrows.
Davis will play in Game 5 Saturday night, coach Frank Vogel said pregame.
Frank Vogel on @AntDavis23, who turned his ankle in the 4th Q of Game 4: "He's good to go."

Vogel said there was some minor soreness there, as expected.

— Mike Trudell (@LakersReporter) September 26, 2020
Anthony Davis sprained his ankle in the fourth quarter of Game 4, and while he stayed in the game there were questions about how it would respond the next day.
Anthony Davis sprains left ankle!#NBAPlayoffs #NBA #LakeShow #MileHighBasketball #LALvsDEN #WholeNewGame #WCF #Lakers #Nuggets pic.twitter.com/31cR7V4bk7

— BasketballBuzz (@basketballbuzz) September 25, 2020
The Lakers are up 3-1 on a Denver team they know will not be easy to close out.
To do that, Los Angeles needs Davis: When AD has been on the court in the Western Conference Finals, the Lakers have outscored the Nuggets by 9.4 points per 100 possessions, but when he sits, the Lakers are -21.3 (stats via NBA.com).
The Lakers want to close out in five games to get some added rest. The NBA Finals are expected to start next Wednesday, Sept. 30 (unless one conference finals series goes seven games, then it is likely Friday, Oct. 2). If the Lakers lose Saturday but win Game 6 Monday it would be a short turnaround (as it would be after a Game 7).
Denver, however, has played its best basketball whenever it has faced the prospect of packing its bags and going home.
New York congressman insults Knicks, James Dolan funds opponent
Ethan Miller/Getty Images
Leave a comment
Things are changing with the Knicks. Leon Rose is in the front office, Tom Thibodeau is the coach, and together they are talking about developing players and having a plan moving forward. It's a reason for hope…
Then there's James Dolan.
Max Rose, a Democratic congressman from Staten Island, echoed the voice for a lot of Knicks fans when he said: "I'm a Knicks fan to the day I die, but Dolan's gotta sell. Right now, this is an absolute disgrace."
We have seen how Dolan reacts to fans saying he should sell the team. In the case of Rose, he is fundraising for the Republican running against him. It would be easy to say "Dolan is a big President Donald Trump supporter and donates to GOP causes all the time" and this isn't personal, except Dolan sent out an email to help raise funds for Republican candidate Nicole Malliotakis and the New York Post got a hold of it.
"Max Rose thinks he can make our team and my ownership his political platform," Dolan wrote in a personal email to friends last week that was obtained by The Post. "I need to let him know that we will not stand for this. The best way to do this is to help his opponent. He is in a tight race for the US Congress in Staten Island. … Please join me in helping Nicole defeat Max Rose for Congress.

"It will help send a strong message to all NY politicians that the Knicks will not be their political ticket to reelection.
That's personal. Dolan isn't just asking other people to donate.
A $50,000 check from MSG Sports was cut Tuesday to "The Governing Majority Fund," a PAC run by former Reps. John Faso and Jeff Denham, Dolan confirmed. The PAC's mission is to help Republicans take back the House.
Rose represents New York's 11th District, a solid Republican district until the 2018 midterms when it became one of 30 districts nationally that flipped blue. The GOP is trying to turn a number of those back, including Rose's district.
Whatever you think of Rose's politics (he's a former Army Ranger, which helped him in a more conservative district), what he said about wanting Dolan to sell the franchise is what many Knicks fans are thinking. Dolan just doesn't like to hear it. Maybe Rose and Thibodeau can turn the Knicks around — they certainly deserve a chance — but the team has struggled since Dolan became the owner and that's not a coincidence.
Whatever Rose and Knicks fans want, it's also highly unlikely Dolan sells the team, there are no rumblings about that around the league (and he certainly has had chances).