It's not the Pacers. It's not the Bulls. It's not the Bucks.
At this point, it's Dwyane Wade.
Wade is struggling to score in these playoffs, and his knee seems like a logical explanation. He's not moving particularly well, and that hasn't changed regardless of opponent.
Three of Wade's four lowest-scoring playoff series have occurred in 2013.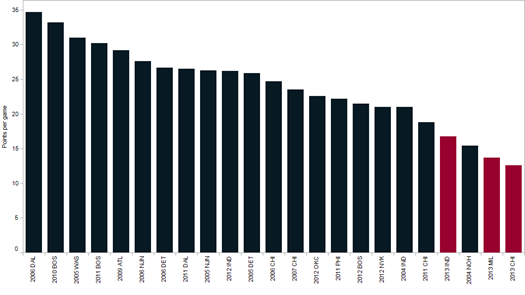 Wade is scoring fewer points per game and per minute and attempting fewer free throws per game and per minute than any other postseason in his career. He's struggling to create for himself, though LeBron James is keeping the Heat afloat.
LeBron has become an absolute offensive terror inside. He's shooting 69-for-
97 (71.1 percent) in the restricted area during the playoffs. Nobody else in the top 50 of shooting percentage in the restricted area has attempted as many shots there as LeBron has made.

Part of the reason LeBron has been so successful near the rim is Miami's outside shooting spaces the floor for him. The Heat have attempted 3-pointers on a higher percentage of their playoff shots than any other conference finalist.

But Wade doesn't help there. He's taken only one 3-pointer in the entire post season.

That partially explains why the Heat have a better offensive rating when LeBron plays with Shane Battier (111.3), Mario Chalmers (111.3) or Ray Allen (115.9) than with Wade (110.0).

There's no doubt Wade is more talented than Battier, Chalmers and Allen, but if Wade can't show it, he's not the best fit with LeBron.

This puts even more pressure on Chris Bosh. When Wade shoots 5-for-15 in Game 4, Bosh scoring a playoff-low seven points on 1-of-6 shooting won't cut it.

Bosh and LeBron are good enough to carry an ailing Wade into the NBA Finals if they're firing on all cylinders, and that might be what they need to do.

LAKE BUENA VISTA, Fla. (AP) — Anthony Davis had 42 points and 12 rebounds, and the Los Angeles Lakers clinched the No. 1 seed in the Western Conference playoffs by beating the Utah Jazz 116-108 on Monday night.

The Lakers (51-15) own a six-game lead over the second-place Los Angeles Clippers and have five seeding games let before starting their first playoff run since 2013.

"If you're winning enough games to secure the No. 1 seed, you're building the right habits that are going to be necessary for you to win in the playoffs," Lakers coach Frank Vogel said. "Obviously we have bigger aspirations than the No. 1 seed, but we are proud of the accomplishment and we'll enjoy it while we're getting ready to get our group ready for the playoffs."

Utah (42-25) has clinched a playoff berth and is fifth in the West, a half-game behind Houston and a half-game ahead of Oklahoma City.

Davis' final basket resulted in a 4-point play with 42 seconds left, as he sank a 3-pointer while getting fouled by Rudy Gobert and made the ensuing free throw to give the Lakers a 114-104 lead.

Utah's Donovan Mitchell answered with a 4-point play of his own that cut the margin to 114-106 with 36 seconds remaining, but the Jazz couldn't get any closer. Davis made two free throws with 5.2 seconds left to wrap up the scoring.

LeBron James scored 22 points, Dwight Howard had 11 and Kentavious Caldwell-Pope added 10 for the Lakers.

Mitchell scored 33 and Mike Conley had 24 for Utah. Gobert added 16 points and 13 rebounds for the Jazz.

The Lakers were coming off a 107-92 loss to Toronto in which Davis shot just 2 of 7 and scored 14 points. Davis was much more active Monday right from the start, as he scored 13 points and shot 6 of 14 in the first quarter alone.

Davis had 24 points by halftime, marking the 20th time this season he's scored at least 20 points in a half.

"Coach just told me to be more aggressive," Davis said. "He felt like, and I felt like too, that I just kind of played into Toronto's defense, accepted the double-team. I was making the right plays, but I still have to be aggressive at the same time."

Utah stayed close and only trailed 58-56 at halftime because it got its own stellar start from Mitchell, who scored 21 points in the first two periods.

Mitchell then connected on a 3-pointer to cap an 8-0 run by Utah to open the second half.

But the Jazz got increasingly careless with the basketball as the third quarter progressed, enabling the Lakers to seize control of the game. The Lakers scored 14 straight points and went on a 19-2 run late in the third quarter.

"When they turn the pressure up, we've got to be able to execute even better," Mitchell said. "We turned the ball over way too many times. They did a great job of taking us out of our actions. … We went up six, they turned it up even more and next thing you know, we're down 12 or whatever."

Even after Utah's Emmanuel Mudiay snapped that run by hitting a 3-pointer at the buzzer, the Jazz still trailed 86-76 heading into the final period.

The Lakers stayed in front the rest of the way.
Watch Shake Milton drain game-winning three, lift 76ers past Spurs
Leave a comment
How do you like Shake Milton now?
After a rough first game where he exchanged words with Joel Embiid on the sidelines, Milton bounced back and hit the game-winning three against the Spurs Monday night.
With the Sixers down two and 10.4 seconds left, Milton was inbounding the ball from the side. He got the ball into a well covered Al Horford who gave it right back, but Milton's defender Dejounte Murray, sagged off to prevent a lob into Joel Embiid, and that left Milton open.
S H A K E
M I L T O N pic.twitter.com/QomN3Dxo23

— NBC Sports Philadelphia (@NBCSPhilly) August 4, 2020
Ballgame. The Sixers go on to win 132-130.
Philadelphia has split its first two in the bubble.
This was a bigger blow to the Spurs, who are in a race for the eighth/ninth seed in the West and a shot at the play-in series. The Spurs had won their first two in Orlando but are now tied with the Trail Blazers for the nine seed, with New Orleans just half-a-game back after its win. It's a Battle Royal in the West and this kind of loss could come back to bite San Antonio.
More Zion Williamson, more defense gets Pelicans first bubble win
Leave a comment
For two games the Pelicans played matador defense on the perimeter — Ole! — while the world was asking, "where's Zion?"
With their playoff dreams on the line Monday night, both showed up.
Zion got to play 25 minutes and scored 23 points with seven rebounds, his attacking the rim opening up the Pelicans' offense. More importantly, Jrue Holiday brought the defensive on Ja Morant — staying in front, cutting off his drives, and helping hold the soon-to-be Rookie of the Year to 5-of-21 shooting — sparking a night where the Pelicans held a high-powered Grizzlies offense to less than a point per possession.
The result was a 109-99 Pelicans win, their first in the bubble.
Brandon Ingram said after the Pelicans second loss in Orlando they would likely have to win out in their final six games to make the playoffs. Maybe, maybe not, but they have to rack up a lot of wins and this was a big first step. With the victory, New Orleans is 2.5 games back of eighth seed Memphis, and half-a-game game back of ninth-seed Spurs (the eighth and ninth seeds in the West almost certainly will be in a play-in series). There is still hope.
After a relatively unimpressive first two games for Zion — leading to whispers around the league about his conditioning and if he should be playing — he looked more like his best self Monday night. Even connecting with Lonzo Ball to finish a half-court alley-oop.
LONZO ALLEY

ZION OOOOP 😳 pic.twitter.com/Vr1BOck8eN

— New Orleans Pelicans (@PelicansNBA) August 3, 2020
Zion wasn't in peak form, going 9-of-21 from the floor and looking winded t points, but he was out on the floor and when he is his gravity opens up everything else. Brandon Ingram led the way with 24 points, including some clutch buckets late and a lot of shot creation. J.J. Redick had 16 off the bench.
The offense was the sizzle, but the Pelicans' defense was the steak in this game. Alvin Gentry talked about the team defensive strategy on Morant, via Christian Clark of the Times-Picayune.
"We tried to keep him (Morant) out the paint as much as possible, so we gave up some 3s. But luckily for us, he only made one of them [1-of-10]. I thought we did a good job overall defensively. That was the difference in the game. We had our moments in the game offensively where we had great ball movement. But our defense is what won us the game."
The Pelicans have to bring that energy on a back-to-back — they play the Kings' tomorrow. Every game is still vital for them, this is a playoff sprint, not a race. Ingram was right, they can't afford any more losses.
Because of their 3.5 game lead entering the restart, the Grizzlies are safe for now despite an 0-3 start in the bubble — losing every game by single digits. Morant is a future star, Jaren Jackson Jr. might be the best player on this team in five years (he had 22 points on the night), but this is a young team that is not consistent. It needs more shooting and that was evident tonight. They also miss Tyus Jones at backup point guard a lot.
The challenge for the Grizzlies is the five games they have left: the Jazz, Thunder, Raptors, Celtics, and Bucks. That's a lot of brutal games lined up in a row, and Memphis needs to find some wins in there.
Michael Porter Jr. has breakout game, drops 37, Nuggets top Thunder in OT
Leave a comment
LAKE BUENA VISTA, Fla. (AP) — Michael Porter Jr. scored a career-high 37 points and Nikola Jokic had a triple-double to help the Denver Nuggets top the Oklahoma City Thunder 121-113 in overtime on Monday.
Porter, who averages just 7.5 points, had the big performance in only his third start of the season.
"He has got tremendous size, length, he can score the ball, he's got soft touch and he does so (scores) in a very efficient manner," Denver coach Michael Malone said. "He can also rebound at a very high level. Tonight, we saw all those things put together."
Porter made 12 of 16 shots and grabbed 12 rebounds. His previous career high was 25 points.
"All I've got to focus on is bringing the energy and the effort, lock in on defense and the rest will take care of itself," Porter said.
Jokic had 30 points, 12 rebounds, and 10 assists. He scored 13 points in the fourth quarter and overtime to help Denver strengthen its hold on third place in the Western Conference standings.
It was a key win for the Nuggets, who were missing three starters. Jamal Murray sat out with left hamstring tightness, forward Will Barton sat out with left knee soreness and guard Gary Harris sat out with a strained right hip.
Shai Gilgeous-Alexander scored 24 points, Chris Paul had 23 and Danilo Gallinari added 20 for the Thunder, who also were short-handed. Thunder coach Billy Donovan said Dennis Schroder, Oklahoma City's No. 3 scorer for the season, left the bubble to join his wife for the birth of their second child.
The game was close throughout. Denver's Monte Morris was fouled with 6 seconds remaining, and he made both free throws to give the Nuggets a 109-108 lead. Paul missed the first and made the second of two free throws with 2.9 seconds remaining to tie the game at 109. Denver's Troy Daniels missed a floater from near the free throw line at the buzzer, and the game went to overtime.
In the extra period, Denver outscored Oklahoma City 12-4 and held the Thunder to one field goal.
"In the overtime, I thought we played terrific on both ends of the floor," Malone said.