Ten years after he said "It feels good to get in the second round," Tracy McGrady finally played in the second round of an NBA playoff series.
Now a role player with the Spurs, McGrady played the final 51 seconds of San Antonio's Game 2 loss Wednesday.
He never led a team to the second round, which he certainly seemed more than capable of doing at his peak, but the oft-mocked McGrady will at least escape some criticism by playing Wednesday. Prior, he was the only member of the top 18 active players based on win shares not to reach the second round.
So now that McGrady is no longer the best active player never to appear in the second round, who is?
Judging players based on career accomplishments is probably the most sound sorting method. That way, players like Kyrie Irving at least have a chance before we stick this label on him.
Unsurprisingly, the field of top players who've never played in the second round is very thin.
Here are the top 66 active players by win shares: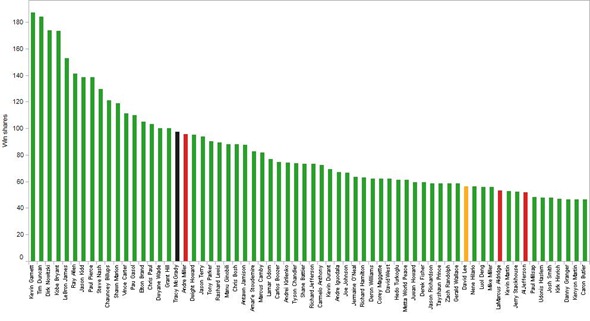 McGrady is represented by the black bar.
The three red bars designate players who've never reached the second round. Andre Miller – No. 19 among active players in win shares – leads by a wide margin. Though he never neared the same peaks, Miller is actually just behind McGrady. Other contenders include LaMarcus Aldridge (No. 56) and Al Jefferson (No. 59).
David Lee (No. 52) made his first playoff Friday night against the Spurs, so he's now safe from replacing McGrady.
Perhaps I'm being too generous to Miller, who was arguably the Cavaliers' best player at one point, but LaMarcus Aldridge might want to win a playoff series before he starts to receive the same criticism McGrady faced.