Journeyman NBA center Jason Collins has come out as gay, the first active professional major team sport athlete to do so.
He wrote an article for Sports Illustrated (that hits newsstands May 6) and came out on his terms in his own words.
I'm a 34-year-old NBA center. I'm black. And I'm gay.

I didn't set out to be the first openly gay athlete playing in a major American team sport. But since I am, I'm happy to start the conversation. I wish I wasn't the kid in the classroom raising his hand and saying, "I'm different." If I had my way, someone else would have already done this. Nobody has, which is why I'm raising my hand….

Now I'm a free agent, literally and figuratively. I've reached that enviable state in life in which I can do pretty much what I want. And what I want is to continue to play basketball. I still love the game, and I still have something to offer. My coaches and teammates recognize that. At the same time, I want to be genuine and authentic and truthful.
You need to go read the entire story by him. It's powerful. He talks about his road to discovery, coming out to his family and friends, and even that he wore No. 98 last season in honor of Mathew Shepard.
Good for Jason Collins. This is a bold and strong move.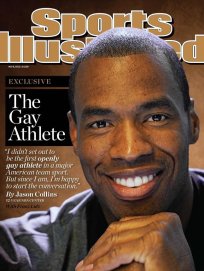 Collins is a 12-year NBA veteran, a solid defensive center who last season split time between the Celtics and Wizards. He was a high school powerhouse along with his brother Jarron, the pair went to Stanford together and took that team to the NCAA Final Four, and he has had a solid professional career where he has been the starting center on teams that made good playoff runs including making it to two NBA finals. He maybe is best known in hoops circles for being a defensive force for the Nets and providing size inside against the likes of Shaquille O'Neal, Tim Duncan, and later on Chris Bosh and more.
As he says, Collins is a free agent.
This is going to bother some in the NBA community and some in locker rooms. But studies have shown that acceptance of the gay and lesbian lifestyle is much, much higher among younger generations than older ones. And the NBA is filled with younger athletes. The general sense I've gotten from most players when this topic comes up is that if the guy can play, if he can contribute to a winning culture, most players don't care what he does or who he does it with when he leaves the locker room. This isn't a big deal to them.
I hope that is the case. I hope some team picks him up as a veteran big man off the bench and he gets a real shot next year to help a team. He is at the end of his career — teams want someone who can contribute and he can't do a ton of that anymore — but I would hope he lands somewhere. And that this really ends up being no big deal and we can start to show that we as a society have moved past this kind of petty bigotry.