The Warriors' starters last night – Harrison Barnes, Andrew Bogut, Stephen Curry, Jarrett Jack and Klay Thompson – played one minute together during the regular season.
The Lakers' Game 1 starters – Steve Blake, Pau Gasol, Dwight Howard, Steve Nash and Metta World Peace – had never before shared the court.
Such is life without Kobe Bryant and David Lee.
With injuries to their All-Stars, Mike D'Antoni and Mark Jackson have been forced to re-tool their rotations by extreme magnitudes. At the most important time of year, no less. Even other teams dealing with injuries like the Bulls, Nuggets, and Celtics have starting lineups with significantly more experience together.
Here's how much each team's playoff starting lineup played together during the regular season (noting when teams started different players in the post-season):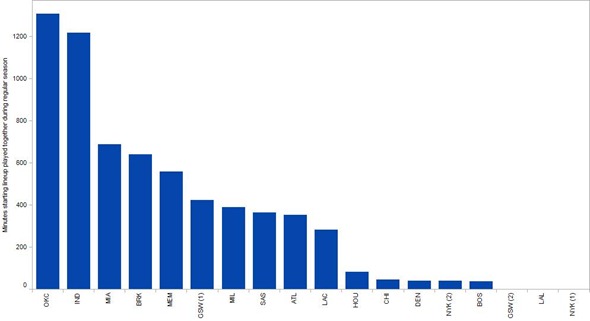 There's a tiny bar you probably can't see denoting the Warriors' single minute together, but you might notice the Knicks also started a zero-minute lineup.
The Knicks' Game 1 starters – Carmelo Anthony, Tyson Chandler, Chris Copeland, Raymond Felton, Iman Shumpert – didn't play together during the regular season. However, that lineup was the choice of New York's mad magician, Mike Woodson, and Game 2 starter Pablo Prigioni returned from a sprained ankle. New York's most-used playoff lineup – Carmelo Anthony, Raymond Felton, Jason Kidd, Kenyon Martin and J.R. Smith – was one of the team's top-played lineups since Martin signed in February.
In other words, the Knicks' strange lineups are behind them if they so choose.
The Lakers and Warriors have no such luck. Unlike Prigioni, who's a much smaller piece of the puzzle anyway, Bryant and Lee aren't returning. That means complications, not just without the starting lineup, but throughout the game.
The Warriors, in their last playoff game, gave 31 minutes to lineups that played one or fewer minutes together during the regular season.
The Lakers went even further into the unknown, giving 32 minutes to lineups that didn't play together at all during the regular season.
Mark Jackson successfully navigated the lineup maze against the Nuggets to help his team win (though, his players making shots certainly helped). The onus is now on D'Antoni to find a winning combination in an uncomfortable predicament.