Here is our regular look around the NBA — links to stories worth reading and notes to check out (stuff that did not get its own post here at PBT) — done in bullet point form. Because bloggers love bullet points.
• Everything seemed to be going in for Oklahoma City's stars in Game 1. Same with their fans, like the one who had the half-court shot between quarters.
• Earlier this year the Raptors discovered that Rudy Gay has a vision issue, an imbalance between the two eyes. He tried prescription goggles but didn't like playing in those. He's going to get that addressed this summer. Gay has always been a low efficiency scorer, we'll see if this changes things at all.
• Wizards coach Randy Wittman's end of season comment on Jan Vesely: "He needs to work on his head first." Ouch.
• George Carl looks back on his time in Golden State. And talks about taking a couple of drinks.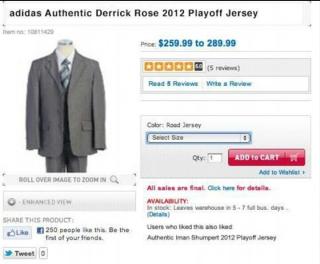 • That image to the left — purchase your own authentic Derrick Rose playoff jersey — has been bouncing around the Web for a couple of days and made me laugh.
• J.J.Hickson says he does not want to play center next season, he wants to be a power forward. The Trail Blazers would like that, too, but he likely will be playing it somewhere else.
• Luke Babbitt got a third place vote for Sixth Man of the Year. None of the voters was his mother, and there is no way he deserved this, so the NBA twittersphere has been guessing how this came about. Tom Ziller comes to the defense of the anonymous stranger (by really saying there needs to be more transparency).
• An interesting profile of newly minted Most Improved Player winner Paul George, where he said part of his motivation for this season was watching the tapes of their playoff series against Miami and noticing he didn't go hard every play and Dwyane Wade took advantage.
• Speaking of interesting profiles, here is one of the Nuggets' Evan Fournier, the rookie from France who has pushed his way into playing key minutes.
• A look back at the history of how the Maloofs have tried to screw over Sacramento in regards to the Kings.
• Nicolas Batum plans to play for the French national team this summer.
• A look at how many key players were lost to injury this season.
• A Q&A with David Stern, where he talks Lakers and dodges the Seattle/Sacramento question.
• A Q&A with Trail Blazers owner Paul Allen. And no, he has no plans to sell the team.
• And finally, this is a little old, but here is Tony Allen singing karaoke.