It has happened before.
On April 9, 1978, Denver Nuggets'; guard David Thompson dropped 73 points in the final game of the season in an effort to win the NBA scoring title  (he failed, it still went to George Gervin).
On April 24, 1994, the Spurs' David Robinson dropped 71 on the hapless Los Angeles Clippers on the season's final day and in doing so passed Shaquille O'Neal to win the NBA scoring title.
If Kevin Durant wanted to pass Carmelo Anthony and win his fourth straight NBA scoring title, he was going to have to match those feats — Anthony is expected to sit out Wednesday night and if he does Durant could pass him by dropping 70 on the Milwaukee Bucks.
But it's not going to happen this time around.
Kevin Durant himself said that, posting this on his instagram page Wednesday morning: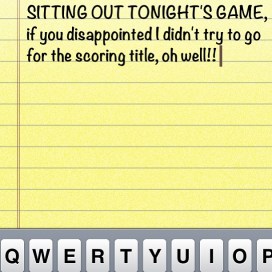 Anthony is averaging a career best 28.7 points per game and this would be his first scoring title (he came in second back in 2007). Durant has won the last three in a row and you get the feeling there may be more in his future.
But not this year.