I was a little ticked when the basketball court at my gym was down for 10 days or so because somebody broke the rim out of the backboard with a dunk. That said, I also wanted to shake that guy's hand.
At one gym in Utah, members can be ticked at/shake the hand of DeMarre Carroll.
Carroll and Earl Watson have been known to go get in a little extra run after practice at a local fitness club, but then on Monday Carroll tweeted out this photo — him and the rim he broke off.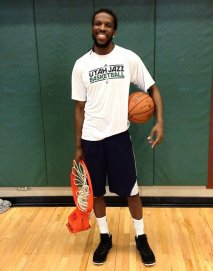 (Thanks to KD at Ball Don't Lie for finding that.)
Carroll can dunk, but we didn't know he could DUNK. The young NBA player may be a little stronger than we gave him credit for.
Carroll needs to save a little of that energy because his Jazz control their own destiny in making the playoffs — win out and they are in. Lose a game and the door opens ever sol slightly for the Lakers.