Hawks head coach Larry Drew lamented his team's poor shot selection after a loss in Boston on Friday, one where his team gave up 118 points to a Celtics squad that hadn't scored that many since an overtime win over the Nuggets way back on Feb. 10.
Atlanta shot 45.5 percent from the field as a team, which isn't terrible. But Drew said the types of shots his players were taking ended up feeding into his opponent's hands.
From Chris Vivlamore of the Atlanta Journal-Constitution:
"If you are not taking good shots, it's as good as a turnover," Drew said. "That is not anything we've haven't talked about every road game we've played. We talk about our shot selection. We talk about not turning the ball over. We talk about limiting them to one shot and coming up with the rebound. When you take bad shots it's as good as a turnover and tonight we took quite a few."
Drew didn't name names, of course, but a cursory glance at the box score tells us that he must have been referring to Josh Smith.
On a night when Al Horford was out of the lineup due to illness, Smith took it upon himself to take control of the offense. He finished with 18 points on 7-23 shooting, including making just one of his five shots from three-point distance.
Smith shot the ball 10 more times than any of his teammates, and checking out where the shots were coming from, it's not difficult to see exactly what his head coach was talking about.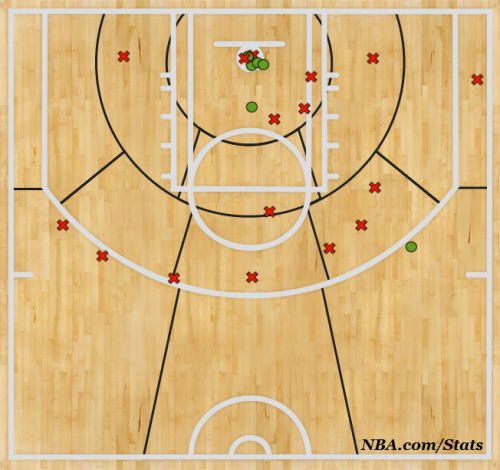 There's a lot of long twos mixed in there, and Smith finished the night shooting 6-11 in the paint, but just 1-12 outside of it.
Drew can make veiled references to Smith's shot selection through the media all he wants, but the fact is he's allowed Smith to play this way going on three seasons. Whether Drew's offense is the issue or whether he simply hasn't been able to get Smith to attack the basket the way he should, plenty of the blame for Smith's shot selection rests firmly on the coach's shoulders.