The Lakers' win over the Bulls on Sunday was a real workmanlike effort that showed improved dedication on the defensive side of the ball and growing chemistry. The Lakers really seem to be hitting their stride at the right time as they make an end of the season push to qualify for the playoffs.
The Bulls, however, have hit a bit of a rough patch lately. They've lost three of their last four games, and their lone win came on a last second three pointer to beat the free falling Jazz.
And while their lack of offense — a season long issue — typically gets focused on most when discussing why the Bulls have trouble winning games, it has actually been their defense that's been letting them down of late. Per the NBA's stats database, the Bulls have a defensive efficiency of 106.7 over their last 4 games — a mark that is a full 8 points per 100 possessions worse than their season average.
For a team that relies on getting stops to win their games, they're not getting enough of them and the results are what you'd expect when that is the case.
One player who was particularly exposed down the stretch of their match up with the Lakers was Carlos Boozer. In the 4th quarter the Lakers offense seemed to target Boozer in pick and roll actions to make him defend on and off the ball, forcing him into positions where his decisions would determine how successful the defensive possession would be.
In this first play, the Lakers switched up their pick and roll action to purposely involve Boozer. Rather than have Dwight Howard set the screen, Kobe Bryant motions to Metta World Peace to come and set the pick and with him comes his defender (Boozer):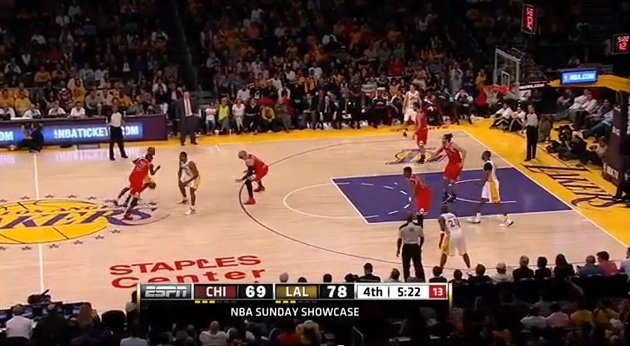 Boozer is actually in decent position to start this play, sitting in his defensive stance and seemingly ready to slow down Kobe as he comes off the screen. However, with Kobe attacking full speed, Boozer simply doesn't have the lateral quickness to contain Kobe:
With Boozer looking like he's going to be beat around the edge, Joakim Noah has already slid into the paint and is ready to contest the drive. However, with Noah committing to helping on Kobe, Dwight Howard is left open at the basket. Kobe recognizes this and hits him with a lob that Howard finishes easily:
The Lakers would run this action over and over again in the final minutes of the game, hoping to get Boozer to make mistakes or to get his teammates to overcompensate for his deficiencies. Here, we see that Boozer recognizes he can't give up the corner to Kobe so he adjusts his coverage in the P&R:
Look at how low Boozer is sitting below the screen now. When Kobe comes off the pick, Boozer is nearly 10 feet from the ball and is  on his heels in retreat. As Kobe attacks that space, Boozer only continues to give ground, ultimately ceding a wide open 15 foot jumper that Kobe knocks down easily:
But it wasn't just Boozer's defense at the point of attack that the Lakers tried to expose. They also put him in positions where he was on the back line of the Bulls' defense and forced to make the key rotation to stop an easy basket.
This next play starts with Nash running a high P&R with Howard while Boozer is on the weak side defending World Peace. As you can see, Boozer his hugging the right lane line: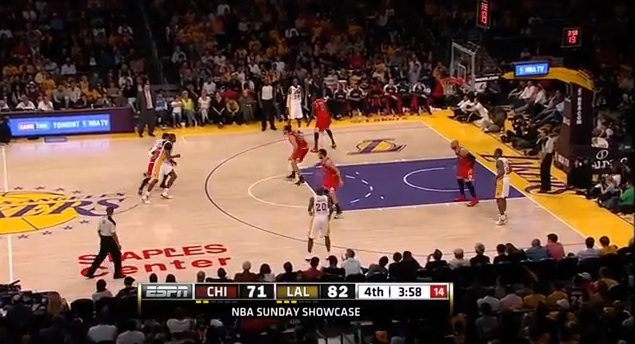 So far, so good right? Well as the play advances we start to see how Boozer becomes a liability. After Nash came off Howard's screen, he initiated a hand off sequence with Kobe who then came off a screen by Howard. After that pick is set, Kobe looks to attack the middle of the floor and Howard rolls down the left lane line. Meanwhile, Boozer is standing in nearly the exact same spot he was when the possession started:
You can only guess what happens next. Kobe hits Howard with a pass and the result is a dunk with Boozer's reaction to the pass to late to prevent any of it:
Boozer should have left World Peace in the corner, rotated into the paint earlier, and forced Kobe to make the skip pass rather than allowing an easy pass to Howard on the roll. Up to that point in the game, World Peace had missed all six of his three point attempts and is not a threat from that spot and Boozer needed to understand situation and who he was guarding better than he did.
Of the Lakers final 10 points, 8 came on plays where they either attacked Boozer at the point of attack or as a back line helper out of pick and roll actions. It's closing situations like these where it's obvious how much the Bulls miss Taj Gibson. Gibson, with his superior athleticism and defensive instincts, is a staple of Coach Tom Thibodeau's crunch time lineups usually replacing Boozer for reasons that are pretty clear from the clips above.
But Gibson is out with injury and it was Boozer who was tasked with being a key cog in the Bulls' scheme. He couldn't get it done, though. And the Lakers, recognizing that he was the weak link, attacked him over and over again to close out the game.