The Extra Pass is a new daily column that's designed to give you a better look at a theme, team, player or scheme. Today, we look at how the pick-and-roll big man has evolved. 
When Chris Paul joined Blake Griffin in Los Angeles, almost everyone believed they would form the most devastating pick-and-roll combination the league has seen since John Stockton and Karl Malone roamed the plains of Salt Lake City.
It made sense. Paul is the league's best point guard, a player with otherworldly vision and a complex understanding of angles, and Griffin is an athletic marvel, faster and stronger than every big man he goes up against. Put the two together, and it's a match made in pick-and-roll heaven, right?
You would think so, but that hasn't been the case. In fact, Paul and Griffin rarely even run true pick-and-roll these days. According to Synergy Sports, Griffin is the roll man on only about 10 percent of his possessions — a shockingly low number given the narrative that he doesn't have a post game, and that all Vinny Del Negro runs is high screens.
So why don't the Clippers run the Paul-Griffin pick-and-roll more?
It's mainly because they can't. The simple threat of it is enough to deter the actual action.
One of the most prevalent strategies used to thwart the pick-and-roll in today's game is the "icing" or "blueing" or "downing" of screens. Jacob Frankel of the De-Thurmond Analysis has a wonderful look at what that means, and this photo illustrates how teams are eliminating the screen from actually happening: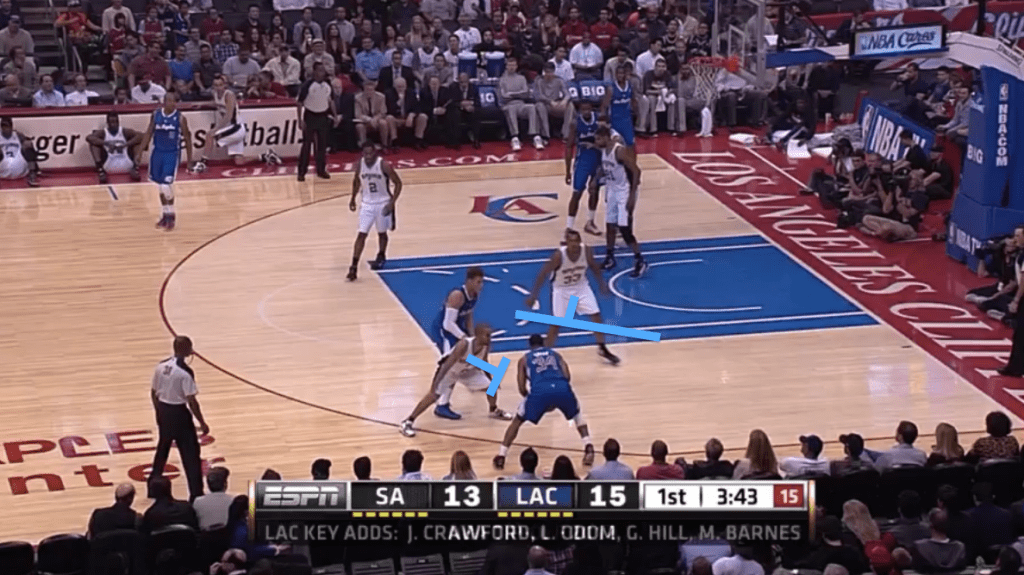 You'll see this a lot over the course of an NBA game. In this example, Tony Parker has forced the ballhandler away from the pick by severely overplaying him screen-side. It's now Boris Diaw's job to prevent penetration and allow Parker to recover once the screen is no longer in play.
What "icing" a screen usually amounts to is a pocket pass by the guard to the would-be pick setter, who now gets to play 4-on-3 against a zoned up backline defense.
In theory, defenses would much rather have a big power forward making a decision from 17 feet than an explosive dunk right at the rim. It's simple —  make a non-traditional ballhandler make a ballhandler's decision, and a lot of times the big man's delay or hesitation to make the decision will give the defense enough time to recover.
What does this all mean in the grand scheme of things for pick-and-roll big men?
Now more than ever before, court vision is critical for any roll man worth his salt. It's why great passers like Griffin, David Lee and Marc Gasol are all averaging career best assist numbers this season, and it's a big reason why all three deserve All-Star bids.
The heavier use of "icing" pick-and-rolls has effectively distributed more of the scoring wealth as well. As Henry Abbott of TrueHoop recently wrote about, five years ago there were 27 players in the league who averaged at least 20 points per game. This year? Nine. As defenses force the ball out of the hands of first options, it's the new role of the roll man to find the open shooter, or knock it down himself.
If there is one thing that's changed about the NBA since the Stockton-Malone days to now, it's that NBA defenses have gotten smarter and faster. Gone are the days of bludgeoning a defense with the same basic action over and over. Defenses develop a quicker immunity, and as an offense, you have to keep introducing new poisons.
It's why simply being a great finisher in the pick-and-roll isn't good enough anymore. While athleticism (Griffin) and size (Gasol) will always be heavily sought after attributes for a roll man, they aren't the only requirements.
You would have never said this a few years ago, but maybe David Lee is the prototype. He's a great passer, a deadly mid-range shooter (47% from 16-to-23 feet), and he's ambidextrous and athletic enough to score at the rim regularly. Golden State has built an entire offense around his abilities in that setting, surrounding him with perimeter shooters and a low post monster in Carl Landry. As we witnessed in their recent victories over the Clippers and Thunder, that's working out pretty well for them.
Defenses will continue to adapt, but for now, players with 'high post skill-sets are more valuable than players with traditional low post skill-sets because those skills can be applied to more areas of the game. A lot of people will tell you that the big man is extinct, but it's not true. They just evolved.