The Lakers have lost two straight after winning their first with Mike D'Antoni in place on the sidelines, and in both of those games, the frontcourt combination of Dwight Howard and Pau Gasol was completely shut down.
The home win over Brooklyn was solid, but the loss in Sacramento was embarrassing, and the loss in Memphis — against what is currently the league's best team — was to be expected. What wasn't expected was how easily teams would deal with Gasol and Howard in the paint, and be able to hold them to numbers that aren't even acceptable for one All-Star starting big man, let alone two of them combined.
Howard has the excuse of not yet being at 100 percent, while still working his way back conditioning-wise after undergoing back surgery over the summer. With Gasol, there seems to be less room for excuses, and less patience all around.
D'Antoni benched Gasol for the entire fourth quarter in Memphis, instead sticking with Antawn Jamison, who was having his most productive game as a Laker on both ends of the floor. He said afterward he did so because he wanted to win the game, meaning obviously that what Gasol was giving him on this night would not be enough to get that accomplished.
Afterward, Gasol blamed his lack of touches in the post for his subpar performance. From Ramona Shelburne of ESPNLosAngeles.com:
"All my looks are jump shots," he said. "I would like to see something closer to the basket and not just rolling, especially when Dwight is there. But we'll see. We'll figure it out. We're just starting, pretty much."

"I'm not a pure jump-shooter," he said. "I can stretch the defense out and make a couple jumpers. But how I get going is by getting in the paint and creating off the post, things like that.

"That's historically how I've been really successful and made a really good name for myself and earned my contracts. But hopefully I'll find a way and we'll find a way to get me a few opportunities there and get myself going in that way and be more effective."
Gasol would certainly benefit from getting more post-up opportunities, but he'd need to do that alongside someone not named Dwight Howard for that to happen. Maybe those touches can come when playing with Jordan Hill or Antawn Jamison at the four during stretches when Gasol gets some run as the de facto center with the second unit. Like last year playing alongside Andrew Bynum, it's going to be difficult to play him in the post with Howard demanding that space when the two are sharing the floor.
What's odd about Gasol's complaint, though, is that plenty of his looks were wide open, even 17-20 feet from the basket. He's more than a capable shooter from there, and if you look at the shot chart below from Friday night's game, even the one shot he made on the left side of the paint came after receiving the ball near the top of the circle, and then driving to the basket to score in the game's early minutes.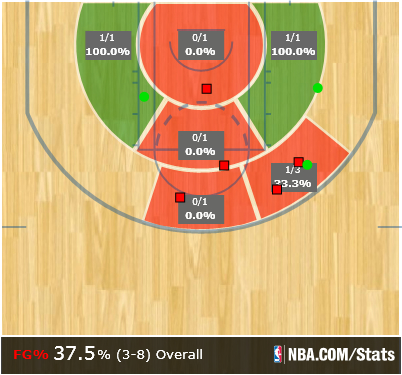 Presumably, the Lakers offense will find its way once Steve Nash (and even Steve Blake) make their way back into the lineup; there's simply too much talent there not to show some serious improvement, at least in theory.
But Gasol needs to remain engaged along the way for that to happen. On nights when he's not getting the touches in the spots he desires, he needs to make the most of his opportunities for the Lakers to have a shot.