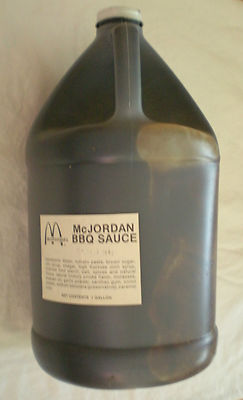 Like seemingly all things Michael Jordan, we tend to look back on his marketing and endorsement career through rose-colored glasses. Or, maybe dollar sign glasses. He is considered the gold standard.
We kind of ignore the fact that in the 1990s Jordan put his name on just about anything in a very Krusty the Clown way.
Enter the 1992 McJordan barbeque burger at McDonalds. You may not have seen the creation — it was only in Chicago, North Carolina and other limited markets — but it had the standard McDonald's quarter-pound beef patty, cheese, mustard, onions barbecue sauce and bacon.
It you want to remember what that tastes like, and you have $10,000 laying around you don't need, then this eBay auction for a gallon of the McJordan BBQ sauce could be for you. From the fine folks at CSNChicago.com.
The seller – who has already rejected 10 offers dating back to July – calls the item a "once in a lifetime chance to own the rarest of rare Michael Jordan and McDonald's collectible." The McJordan had the same ingredients as the "Big 33" sandwich named after Larry Bird.
Now for the public service announcement: I don't know the shelf life of McDonalds BBQ sauce, but my guess is it's a little shy of 20 years. You may not want to crack that bad boy open after you buy it.
And while we could not find a McJordan commercial, the people at CSNChicago.com found the old Larry Bird "Big 33" commercial and we just have to run that.