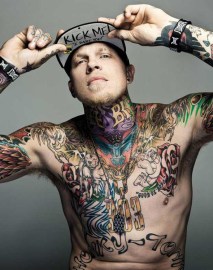 Right now, Chris Andersen — the Birdman — is trying to find a team that wants to bring him in. He was amnestied by the Nuggets and has yet to find a new home. Like Kenyon Martin and others, he's finding a dry market where the only offers are for the veteran minimum, and in Andersen's case there is not even that. (While he faced potential legal issues, he has denied those claims and has not been charged with any crime at this time. Not that the situation helps his cause.)
But that's not what we're writing about. We saw this photo of Andersen with his shirt off on The Basketball Jones (originally from J.E. Skeets' tumblr) and thought what you are thinking now — man that is a lot of ink.
Credit Trey Kerby of TBJ who worked the photos to calculate how much of Andersen's skin was still available as a canvas to tattoo artists and found 55% of his upper body still is open. Doesn't look that way, but the stats don't lie.
Which means there are tattoo artists in a few cities right now rooting for their team to sign Andersen. That's some big business coming to town.