In Part 1, we talked about the individual's needs in order to play at the highest level they can, those transcendent performances that defy logic and make us love the game. But a player reaching a status as self-actualized doesn't just sometimes fail to lead to victories, it often times does. The ability to play at the highest level you personally can doesn't always mean it's going to lead to the most team success. That lesson is maybe the hardest for star players to accept, because if you're self-actualized, you feel like you've given the absolute most you can. You just scored 50 points. What more does anyone want from you? But it's not even about the individual game, it's about the season, the larger sample, it's about the whole record.
So how do you translate those things? We talked on Monday about how star players have to actually de-actualize themselves in order to make the entire team better, specifically pointing out how Kobe Bryant may have to emulate what Dwyane Wade did with the Heat now that he has Steve Nash and Dwight Howard on board. But what's the framework for a team success? Why does it need sacrifice? And what actually makes up a team that reaches its potential vs. one that has all the talent and falls apart?
Let's start with what it needs. In Part 1 we introduced Maslow's hierarchy of needs, in the pyramid form, then adjusted it to the individual. Here's what a team concept looks like using the same model.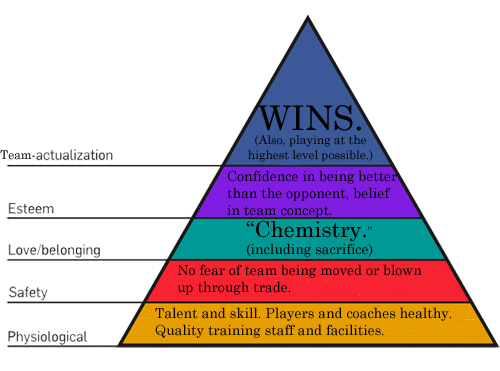 We'll breeze through these real quick.
Physiological: Well, if you're not actually good at basketball, you can only go so far. Long is the list of teams that genuinely liked each other who didn't win any games because they were inherently not good enough at playing NBA basketball. You have to have talent and ability if you want to win in this league, and that extends to things like athleticism and size. You can have ten guards as good as any in the league but you'll still be limited if you don't have any bigs on the roster, even in a league that's gone smallball. You also need everyone healthy, obviously, but not just because those players are missing, but because their absence causes the other players to adapt to roles win which they're not best-suited. The Heat are the obvious counter-example to this, but in reality, the injury to Chis Bosh last year helped them understand their team concept much better.
Safety: Teams going through emotional turmoil struggle. We saw it with the Nuggets in 2011 and the Magic in 2012. If there's a concern about a team being "blown up' and several players traded, there's clearly already problems, but it's also going to make matters worse by affecting the players' concentration and ability to work together. Players will start working to protect their own interest, or struggling out of a sense of distraction due to the concerns. These effects aren't obvious, but subtle yet impactful.
Love/Belonging: Chemistry. That rarified concept that is talked about so much. You need the players to enjoy hanging out with one another, or at least be modeled around a central identity. Whether it's "all business" or the fun and happy-go-lucky Thunder, you need to know who you are and have everyone buy-in. The players at the end-of-the-bench aren't as important as the role players, who aren't as important as the stars, but you need the majority to enjoy being there. It's like any work environment. If you're unhappy, then time with your coworkers will be less productive and more prone to challenges throughout the course of the day. You want people to feel like they can succeed there, but more importantly to buy into the idea that the team concept is worth believing in.
The 2011 Mavericks are a great example of this. If you talked to the players, they honestly believed that having the veterans that they did gave them an advantage over opponents. Their entire attitude was one built around the strength of their team's identity. And while Dirk Nowitzki was the sun and moon for them, Shawn Marion talked about getting in Nowitzki's face in the playoffs and telling him to go to the rim. The team was reliant upon itself, not its individual accomplishments or abilities.
Similarly, the Heat found a similar identity in "create havoc defensively with our athleticism, then run like hell." That model really became something their team bought into, not just from a tactical perspective, but for a team concept. And that's pretty impressive for a team with that kind of starpower. They liked playing together, more than they did in 2011, and the success came with it.
Esteem: This is as simple as having the belief that you are better than your opponent and can beat him. You can believe in what you do and love the guys you're playing with, but without that experience and confidence, you're the 2010 Thunder.
How many times have we seen a young team come up short because they looked shellshocked. Teams have to believe without a doubt that they can win. Otherwise you're hoping for a statistical outlier, and no one feels comfortable when they're thinking of the odds stacked against them.
Team-Actualization: The best example of this? 
A team that didn't have players who self-actualized, because they were ravaged by injury. Instead, the team believed in what it did, sacrificed to create opportunities for the entire roster on the floor, and won a ton of games.
There has to be a balance between self-actualization and team-actualization, though. You need those moments in the playoffs where one guy takes over. That's why the Rockets fell to the Lakers in that series after Yao Ming went down. It's why the Nuggets lost in seven to the Lakers last year despite a much stronger team concept. You have to have those players to lift you over.
So while Kobe Bryant and Dwyane Wade may have to adjust their games to make their squads better, moving off-ball and maximizing their individual abilities inside of the team's offense, there will still be times for them to take over.
As with anything, it's a matter of balance.