From time to time, we'll take a look at what teams looked like on offense last year using some basic but nifty charts. Today the Atlanta Hawks.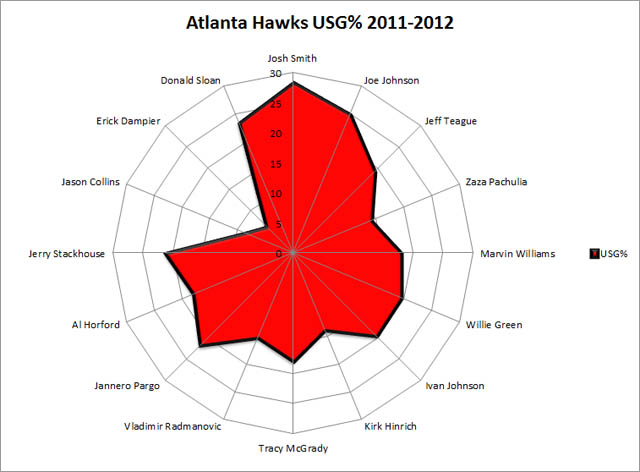 I've done these before with overlays of production, but it's difficult to get a real indication relative to usage. Points per minute? Still impacted by too many factors. Field goal percentage? Doesn't cover the impact of drawing fouls. Points per possession is really the best way to go, but even that is rife with complications and relies on a separate definition of possession (which I won't go into here). So instead, let's just take a look at how the usage is mapped out, and rely on our own estimations of players and their production.
Usage is great in this context specifically because it doesn't factor for minutes. It shows you when a player is on the floor, how many possessions he's absorbing.
Some surprising notes:
Josh Smith with a higher usage rate than Joe Johnson. It shows how the team really did start to shift towards more of a Smith-centric approach last season, which is a good thing, and could help them with the transition from Joe Johnson to a more even distribution on the perimeter. Smith had more FGA and FTA last season in roughly 200 more minutes.
Woah there, Ivan Johnson! Johnson had an equal usage rate as Lou Williams, their primary bench scorer. Thing is, though, he was efficient, shooting 51 percent from the field. He averaged as many points per 36 minutes as starting point guard, Jeff Teague, for crying out loud. Johnson's personal issues and locker room concerns are evident, but they still shouldn't outweigh his production on the floor.
Jeff Teague has got to get more assertive. Teague has been criticized for being too passive in his approach, and this very much shows it. With Joe Johnson gone, he's going to have to take on a bigger role. Yes, he can distribute to the shooters on the floor, but he's got to contribute with his ability to get to the rim as well.
Once a Pargo, always a Pargo.
Don't really care what Al Horford's minutes are or how many games he appeared in, he's got to have a bigger role. In 11 games last season, he had a usage rate lower than Tracy McGrady. That just cannot happen. He's going to be the best or second-best player on the floor at all times next season and the ball has to go through him more.
Marvin Williams has a lot of problems, but at least he's not a gunner. With as many opportunities as he gets, to have that kind of usage shows a level of restraint. How he does in Utah will be interesting in that regard.
Hinrich was beat up all last year with a lot of different injuries, so take that into consideration. But he also had one of the lowest usage rates, and is going to a team (Chicago) where he's filling in for one of the highest usage rate guys in the league. The Bulls have Deng, Boozer, and Noah who can shoot, but there's still going to be a lot of questions about where the actual shots are going to come from.