If everyone is healthy next year, the Golden State Warriors should be entertaining and even a playoff team in the West.
But that's a big if since they are counting on Stephen Curry and Andrew Bogut, two guys who have been injured a lot the past couple seasons, to return to form. You can argue that these guys suffered fluke injuries that are not likely to repeat, but the injuries impacted their play. They need to be all the way back.
Golden State needs the Bogut of three years ago, before his ugly elbow injury, and certainly before the ankle surgery he had this past April. So, Bogut, how's that ankle coming?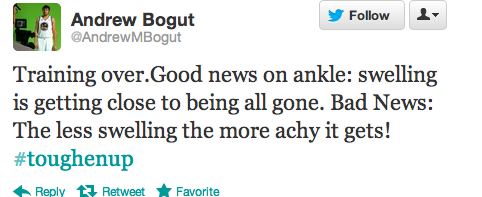 A little good news/bad news for the Warriors. But there is two months before training camp even opens, so there is plenty of time for things to get right.
Just something to watch. If Bogut returns to his form from 2009 the Warriors have a deft offensive player and one of the best defensive bigs in the game. If he's the Bogut from the last couple of seasons the Warriors have a solid player who is good defensively. The difference matters a lot. Good for Golden State for taking the gamble, now we'll see if it pays off.