Business Insider posted a fascinating graph today: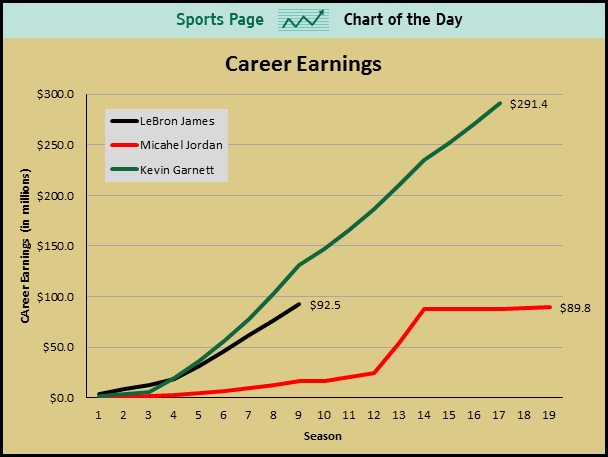 Just to remind you that not only has Kevin Garnett won a lot of basketball games and been a hero in Boston, he has been well compensated for his efforts. This graph represents just salary, not endorsements (which is where Jordan slaughters everyone who ever played the game). From Business Insider.
Garnett started by turning pro before the NBA banned high school players. He was also a 19-year old rookie at time when the NBA granted free agency to players after just three years. This led to Garnett signing a $126 million contract extension during his third season, and just prior to NBA rules changed rookie contracts.

And then in 2003, Garnett signed a $100 million extension with the Timberwolves just before the NBA changed the salary cap rules in 2005. This has a led to a career earnings that dwarfs those of other players.
LeBron James may never pass KG because of the new salary cap structure and because I'm not sure he plays 17 years. KG has the passion to do that and bring it every night for that long and more years to go. Does LeBron?