Stop us if you've heard this one before.
The Boston Celtics play badly for 2.5 quarters, scrap and grind their way to get the deficit into reasonable territory, then turn on the jets while the other team does a series of remarkably stupid things, going away from everything that had worked the entire game through, eventually losing as the Boston crowd goes berserk.
Celtics 92, Sixers 91, Boston wins Game 1 of their Eastern Conference Semifinals series.
The Sixers have a lot to feel good about, sure. Andre Iguodala played a phenomenal game, hounding Paul Pierce, scoring 19 points, adding 6 rebounds and 6 assists, including some dazzling passes. Spencer Hawes gave good effort against Kevin Garnett who continues his playoffs-MVP-level play. Doug Collins had some effective lineup adjustments and the Sixers really pushed the tempo. There were times it looked like they could break it open
They did not. And once it was within range, you knew what would happen. The Celtics simply took over with poise and defense. And the Sixers? Well they started doing things, like, oh, say this: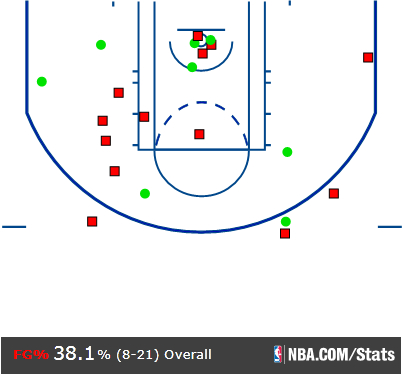 Yup. It's not the number. It's where.
Lou Williams was talked about as a Sixth Man of the Year candidate for much of the year, at least as a "if not Harden" runner-up. But he showed in Game 1 the "trick or treat" he comes with. Great floater? Absolutely. Spot-up threes? Yes, sir. Mid-range pull-up after mid-range pull-up? All the time. It's the same offense that sunk the Hawks, and the Sixers, after passing brilliantly for 2.5 quarters, ran willingly into the arms of predictable offense against a defense primed to encourage it.
It's not easy to get good shots on Boston. But the Sixers too easily handed it over.
So on a night where the Celtics didn't play well, where Boston's crowd was catatonic for 3/4 of the game, where Paul Pierce didn't play well, Ray Allen didn't feel well, and the Sixers made a great series of decisions for much of the game, Boston walks out with the win. This is the pattern, and we've seen it over and over and over again.
Boring old Boston, ripping them apart piece by piece.
More than anything, the game shows the incredible enigmatic brilliance of Rajon Rondo. Rondo didn't play well. That's just something you'd have to watch the game to see. Because when Rajon Rondo plays badly, he can still have this line: 13 points, 12 rebounds, 17 assists, and 4 steals, along with three plays at the end of the game to clinch it for Boston. Rondo looked disinterested and disgusted with having to play for most of the game. He also keyed the comeback, hit the shot to give the Celtics the lead late in the game, and closed out the Sixers like they were a little brother. He missed nine of 15 shots and had seven turnovers. But he still produces, still closes, and still wins the game. And then gives a snotty post-game interview. That's Rondo.
So Boston wins Game 1, as expected, and despite struggling, still won. Even when things don't go Boston's way this postseason, they go their way, or they make them go their way just enough. A big win for Boston, and their path to the Eastern Conference Finals is down to 3.