The new-ish trendy element to judge a player is efficiency. We've learned over time that a lot of guys, not all, but a lot of guys can drop 30+ if they shoot it 27-plus times. So every scoring effort is weighed against how many shots it took to get there. After all, if you're just throwing the ball at the rim over and over again, that's probably not helping your team as much as helping to convert a higher number of times you have the ball. Which is what makes Kevin Durant's line against the Wolves Saturday night all the more impressive.
Durant finished with 43 points and seven rebounds. Four turnovers is a little high for just the one assist, but when you're scoring that much, you're going to lose the rock a bit. OK, great, ho-hum, another 40-plus night for a shooter. Woo. How many shots did he…
23. Twenty three. Forty three points on 23 shots. Good. Gravy.
It gets even weirder when you take a look at Duran's shot chart, courtesy of NBA.com (blue line emphasis mine):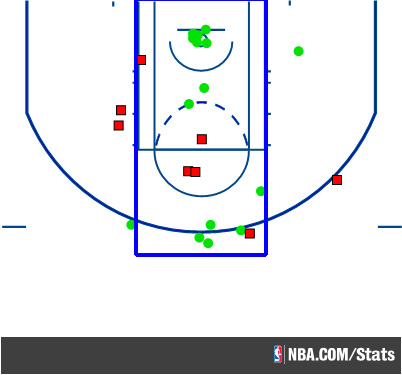 Basically Durant hit one shot from the right shallow wing near the baseline, and one juuust-to-the-right of the top-of-the-key three, and other than that, all his makes were in a straight-on path to the basket. So what does this mean?
Nothing. Absolutely nothing, it is not indicative of anything besides the fact that the Thunder weren't using Durant out of the corner on sets which makes sense because, really, who's leaving Kevin Durant open in the corner and two that the Wolves were forcing him middle and he was torching them with it. It's not super-relevant in any way, it's just kind of neat.
But not as neat as 43 points on 23 shots. That's super-neat.