You want him to get it. So badly. But in wanting him to get it, you're missing how much he's doing. If you focus on what he's doing, you're missing how much he doesn't get it. And all the while you're not sure if he's just oblivious to what goes on around him, to the reasons for people "hating" on his mid-range, or if he's hyper-aware and deliberately messing with critics and a franchise that continues to hold onto him despite his wishes otherwise. He's fierce, he's confusing, he's frustrating, he's incredible.
He's Josh Smith.
From Lang Whitaker at The Classical:
Even though I've known Josh Smith since the night he was drafted by the Atlanta Hawks, I am not sure I will ever completely know Josh Smith. If Allen Iverson was The Answer, perhaps Josh Smith is The Question, at least among NBA fans. What kind of player is he? What kind of player should he be? What kind of player will he become?

I'm not the only one: NBA fans in general don't seem to know what to make of Josh. Even though everyone knows long jumpers aren't his forte, he still occasionally lofts them at the rim, eliciting loud criticisms from Hawks fans. (At least when those shots carom off.) Fans see Josh flash a sour face when a call goes against him or the Hawks, and don't seem quite to get his perceived obstinacy. These are the two biggest criticisms regularly lodged against Smith, and though both are mostly outdated this point, Smith seems to still be paying for past mistakes.

Back in 2008, I interviewed Josh for SLAM, and I asked him how he feels about fans criticizing his game or his attitude. "I really can't talk about all that," Josh said, "because people don't know me. You know me, you see me in the locker room, you see how I act, you see me in person. So everyone who's trying to take down my character, I don't have nothing to say, because they haven't seen me face to face or they haven't sat down and had a conversation with me.
via The Josh Smith Question | The Classical.
Here are a few things we know about Smith in the context of the modern NBA.
He's having a monster season, posting a career high in points and rebounds per 36. His percentages are down with his usage up. He's able to take over a game and when engaged, there is no matchup for him. His post moves against small opponents are devastating, his driving game against larger power forwards a total mismatch. There are about ten players league wide who can effectively check him one-on-one when he decides to be aggressive.
He doesn't decide to be aggressive. Synergy Sports tell us that Smith elects for a jumpshot 48 percent of the time, versus post-ups and scores at the basket which account for 49 percent of his possessions. And the weirder trend is that Smith has actually moved more in that direction over the past three seasons, despite his percentages getting worse.  Here's what the percentage of Smith's shots at each point on the floor are over the past three seasons.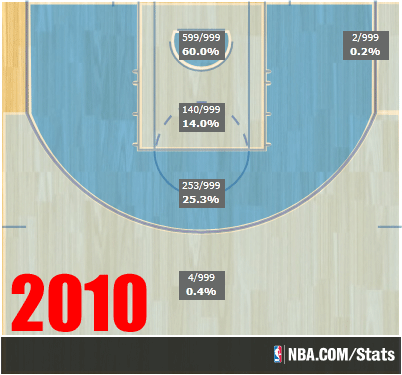 And here's what his actual shooting percentages look like over that same time span:
So he shot a record high percentage last year, that still wasn't very good (red means bad), and yet he has responded by… shooting even more mid-range jump shots! /facepalm.
But then you see the kind of percentages in the paint, and rebounding, and the assists, and the steals, and the blocks, and the key plays. Smith is a perennial defensive player of the year candidate. He's an absolute monster and arguably the biggest reason year in and year out that the Hawks aren't just a playoff team, but a middle-seed one. Their underwhelming assortment of talent and style aside, they've been a really good team for the past five seasons. They just have.
And yet Smith is not an All-Star. He's religiously passed up over what he feels are "political" reasons. Even that, though, is baffling. Smith isn't outspoken, he doesn't trash his teammates nor his coaches on a consistent basis. He's not a sterling example of friendliness, but who cares? The man can ball at the highest level.
Smith has had a rocky relationship with the Hawks, though not an explosive one. He was signed to an offer sheet by Memphis after no one else extended him an offer in restricted free agency a few years ago, because they all assumed the Hawks would match. The Grizzlies had some cap room to spare and threw out a figure. The Hawks matched, getting Smith back at a discount. He's asked for a trade consistently since then, to no avail. And with the way most people consider his game, mentally unstable in decision-making offensively, complete without being comprehensive, I keep coming back to the same question.
What do you want to bet in New York, Los Angeles, or Boston Josh Smith is an All-Star? I'm not arguing that it's an issue of market. Atlanta is a huge market and a perennial playoff team. But you have to think that on a team that welcomed him in as a star, with top level talent and conceivably a top level coach, that Smith would "get it." That those jumpshots would become either out of the pick and roll or more attacks at the rim. To put it another way, is Josh Smith being held back in his prime?
We're left to wonder about this as the Hawks steam towards another inevitable first or second round exit, another "good year, not great" for a team that is "good, not great." We'll continue to wonder if Josh Smith is capable of being greatness, or if it's the spirit that defines his game that renders him just on the cusp of immortality, and if in another set of circumstances, another life, if that spirit might form something altogether greater.