The Bobcats are in Hell.
Not literally. They're still alive. They still get paid. They're operational. They're not tortured with fire.
Other than that, though, yeah, pretty hell like.
The team is on pace for historic levels of failure. It is literally just about as bad as it can get. There is nearly no reason to watch the team, even if your team is playing them. It's an automatic win. Better to do your taxes or tweeze your eyebrows.
How did it get to this? How did we reach this  level? What makes the Bobcats so absolutely terrible? And is there anything, anything, anything to be hopeful about whatsoever? Maybe by diving in we can move forward from the horror. With that, we present the Nine Circles of Bobcats Hell.
The First Circle: They Are Terrible
Via the NBA.com stats database, here are the rankings of the Bobcats in some relevant categories. Points per 100 possessions: 30th. Points allowed per 100 possessions: 29th. Net points per 100 possesions: 30th. Offensive Rebound percentage: 28th. Rebound percentage: 30th. True Shooting Percentage: 30th. Field goal percentage: 30th. Three-point percentage: 30th. Point differential: 30th. Points in the paint: 28th. Opposing second-chance points: 30th. Opponent effective field goal percentage: 28th.
You get the picture. The point is to illustrate that it's not "the Bobcats are absolutely terrible in a few key areas." The point is that outside of at-rim defense and not turning the ball over, they are bad in almost every single category. And not just bad. Horrific.
They can't shoot. They can't defend. They can't rebound. They can't rotate, close-out, lock down, communicate, obfuscate, irritate or confound. They can't chase down, track down, corral or snare rebounds. They can't score at the rim, they can't score from deep. They're not bad from 9-14 feet, which would be great if it weren't one of the least efficient places on the floor? Want to have your eyes on fire? Enjoy this: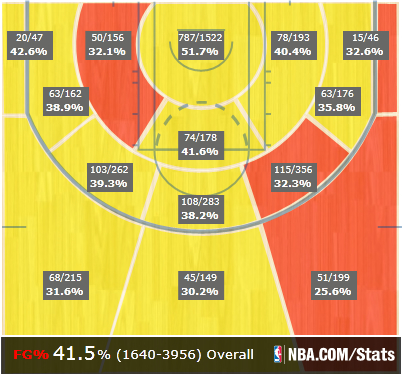 So when we say this team is bad, we mean this team is awful. It is a disaster. It is the kind of combination of players which should never be assembled the same way ever again if for no other reason than to not insult Dr. James Naismith and his efforts to bring a game meant to be fun to the people of this planet.
The Bobcats are terrible.
The Second Circle: They Are So Terrible They Cannot Get Good Return on a Firesale
Tyrus Thomas was acquired for a first-round pick. D.J. Augustin was a lottery pick. Bismack Biyombo, Kemba Walker, two lottery picks. Corey Maggette was a quality scorer at one point. Boris Diaw was a major contributor to a Phoenix Suns playoff run. And you can't move any of these guys.
If he wanted to, Rich Cho could have moved them, but he couldn't even get return relative to a yard sale. This isn't even entirely because of their individual talent. Augustin could help a playoff team or two. Tyrus Thomas is still talented enough to draw offers at some level. Diaw had an expiring. But the overall level of talent meant that, presumably, no quality offers of picks came rumbling through the offices in Charlotte, because collecively, they all dragged the team down.
Moving forward, the team isn't able to just press the reset button because it's like if the glitch freeze on your Super Nintendo spread to your carpet, controller, and cerebral cortext. The virus of suck is everywhere. The Bobcats are the basketball verison of a nuclear disaster site, and that's without any horrific off-court stuff to speak of.
The Third Circle: They Can't Bring In Free Agents
Something that gets lost whenever a small-market franchise overpays for a player is this simple fact. To convince a player to agree to play somewhere without a level of coolness and weather that springs to the mind thougts of outer Siberia, you have to pony up.
The Bobcats somehow manage to combine the two worst elements facing a team trying to land free agents, and this in spite of the weather actually being quite nice.
It's not cool to play in Charlotte. I want to state right up front that Charlotte is a fantastic city. There's a brewery downtown that makes an amber ale that was so good I've considered establishing bootlegging lines from there to my house. It's a beautiful city deep in the heart of beautiful country.
It is also not cool at all.
Chapel Hill is cool. Even Greensboro. Winston-Salem. But Charlotte is not. Charlotte is famous for banking. Banking is not cool. So it has that going against it.
Even worse, though, is that the franchise has no history of basketball to speak of. Selling players on San Antonio, you can mention George Gervin, David Robinson, and the past ten years of Duncan dominance. They have a tradition and history rife with success. Even the Pacers can show 8 points in 9 seconds and the classic Knicks games. There is some level of success there. Charlotte has nothing like that.
You can see that was part of Larry Brown's thought process when he invoked the short-term, "burn it all just get to the playoffs" approach. At some point you have to set your sights lower than the playoffs and just make yourself considered an actual NBA franchise in the mind of the players. But even that didn't help and the result is that the Bobcats can't talk anyone into signing there. Who wants to go to somewhere that isn't considered cool and lose a bunch of games when you have no emotional or respectful attachment to the team?
To put this into comparison, every year kids from inner city areas dream of playing in Lawrence, Kansas. I live close to Lawrence. Lawrence is a supremely nice city. There is no reason why soeone who grew up in Compton should want to spend two to three years in Lawrence, Kansas. But they do, because there's something about beocming a Jayhawk.
The Bobcats have none of that.
The Fourth Circle: They Are Financially Limited
Even if the free agents were in a position to be wooed, tehy don't have the operating budget to start slinging around cash. Owner Michael Jordan has gazillions but you don't run a business by chasing good money after bad unless you're Daniel Snyder. Mark Cuban kind of did that, but he had a long-term plan and, well, he's Mark Cuban.
When those numbers about teams losing money circulated this summer about teams losing money, the league's stated reasoning behind the lockout, it was never stated which teams were involved. They didn't need to be. The Bobcats were undeniably such a team. Jordan took a bath on buying out Bob Johnson and in the early years of his tenure as owner we've seen no indication he's got the capital invested to turn this thing around. The Bobcats laid off several employees during the lockout and despite attendance figures that aren't completely horrible, rank 26th in value according to Forbes.
How do you bringin auxilliary comforts if your business is just trying to swing a profit? How do make any momentum if that's continually your situation?
The Fifth Circle: The Jordan Issue
Jordan has a complicated place in this situation. Does being pitched to by the greatest player of all time carry weight? Absolutely. Is he the one actively pitching? Usually not, and if he is, he's pitching as the owner of a small market team with no history of winning who was a disaster as GM in Washington. Jordan's draft history is subject to intense scrutiny, with the feeling being that he tends to swing for guys with established resumes who aren't always the best talents.
He famously ruined one high schooler in Kwame Brown by destroying his confidence daily. Brown was going to be bad regardless, but what Jordan did in practice is considered legend.
Then there's the lockout. Jordan was active and infalammatory during the lockout, reportdly very much pushing for harsher and harsher aproaches to the players, which many felt betrayed his 1999 position in which he told the late Wizards-owner Abe Pollin to sit down and that if he can't afford to run his team to sell it. There were a lot of bad feelings from the players left over that and it remains to be seen how effective Jordan can be in the role of recruiter.
This is all beside the fact that Jordan's standards are above and beyond, well, anything. Playing for Jordan is intimidating. Many free agents grew up with his posters on their walls, many of the younger ones hearing of him more in myth than reality, and all of them grew up wearing his shoes. It's kind of a big deal to walk into a losing organization under his eye every morning.
The Sixth Circle: DeSagana Diop
The Bobcats willingly traded for DeSagana Diop in 2009 after signing a six-year, $32 million contract in July of 08. Assuming he activates his option for next year, the Cats will owe Diop $7.37 million for next year. They might be able to use his contract at the deadline, they might be able to get rid of it, but in all likelihood, it will represent one of the worst contracts by any team over the past five years. (The Nets and Johan Petro wave hello). It's less the fact that Diop was overpaid it was that he was so overpaid, and then acquired by the Cats (though his value was considerably higher at the point of acquisition). That almost makes it worse that the value has dropped so consdirably while his contract value has risen.
It's representative of the Bobcats. A bad acquisition that somehow gets worse over time. A cash-strapped team trading for a poor player with limited upside on a bad contract. That's what the Bobcats do, and that's a reflection of where the franchise is in its development.
The Seventh Circle: Sean May
If Diop reflects the Bobcats' terrible decision-making in acquisitions, then May reflects their poor drafting acumen. An undersized big man reliant on a large frame vs. elite athleticism and who boosted into the lottery based on his ability at the college level. Here's the thing. It wasn't a bad idea at the time.
It just wasn't. May was considered a legitimate franchise player when he was drafted. Early returns were not disastrous. It took time to understand he was heading in the wrong direction, that he wasn't going to work out. May averaged 17 and 10 per 36 his first season. 18 and 10 the next season. Then the bottom fell out. He wound up in Sacramento and then faded into the night.
There are those that say that the draft is determined by a team's scouting, acumen, insight. The Spurs certainly reflect that. But too often a team's future is decided by the random nature of how picks do or do not develop. The Bobcats were, are damned because every pick they made for the duration of their existance has been an unfortunate run of the cards.
The Eighth Circle: Emeka Okafor
And then there's this. In 2004, the expansion Bobcats somehow landed the No.4 spot in the lottery. Desperate to move up, they traded with the Clippers to acquire the second pick. The choice was between two legit centers. One was a high school freak of nature who could just as easy go down among the long line of project bigs who never panned out, and a defensive stalwart at 6-10 fresh off being named the NCAA Final Four Most Outstanding Player who averaged 17 and 11 in college for a major program.
The first pick was Dwight Howard.
The second pick was Emeka Okafor.
It's not that Mek was a bad pick, he really wasn't. He played well for the Bobcats, and later for the Hornets. He was Rookie of the Year with Charlotte. He is one of the better defensive bigs in the game.
But another ball comes up and the Bobcats get Dwight Howard and we're talking about Howard possibly leaving Charlotte but at least the franchise is legitimate. The Bobcats' first and most important draft is one in which the fourth pick was Shaun Livingston, and the second best player in the draft drafted at either 7 (Luol Deng) or No. 9 (Andre Iguodala). (Or Josh Smith at No. 17, Kevin Martin at No. 26, or Al Jefferson at No. 15.)
That's the life of the Bobcats.
The Ninth Circle: The Hornets
Once, long ago, there was a franchise.
A franchise that had sold out arenas. A franchise with an upstart group of youngsters in a talented power forward and a near-lunatic center who blocked everything imaginable. Versus the damned history of the Bobcats, the franchise had the rookie center nail a three to knock off the mighty Boston Celtics in the most improbable fashion.
It was a franchise of contention and excitement. It made the playoffs seven of its fourteen years in the city. And just like that, it was gone.
George Shinn alienated the city, alienated the fans, alienated the everything. And in response, fans stopped coming. Shinn responded by demanding a new arena. He didn't get it. He moved the franchise.
Professional basketball has never recovered.
The NBA has a lot of warts. George Shinn showed all of them to Charlotte and it never forgot. Carolina loves basketball, more than any state in the union. It is basketball incorporated. But the damage done has been irreparable, and the Cats continue to see the karmic effects.
The worst thing to happen to Charlotte with regards to pro basketball isn't the Bobcats. It's why the Bobcats were necessary.
————————————————–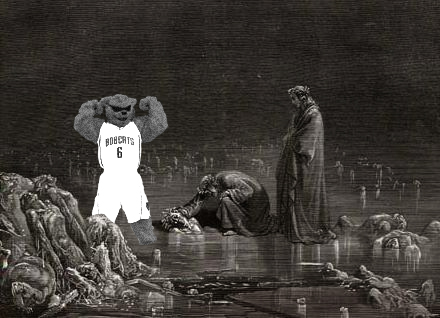 But lo, as it was with Dante, the river will be crossed.
The Bobcats have bottomed out. Management, ownership, coaching seems to understand what has to happen. Rich Cho was hired and the plan is clear. He has prioritized getting draft picks. The Bobcats' pick owed to Chicago for the Tyrus Thomas trade is lottery protected. They picked up a protected pick from Portland. The future isn't bright, but it's uncertain. That' an improvement.
There's a philosophy which says that Hell is simply the absence of God.
In basketball, hope is the most mighty force you can have. It's what allows fans to keep coming back. We've taken you through how the Bobcats reached this point, but where are they going?
Kemba Walker has nights. There are holes, but he has nights. D.J. Augustin will likely get good value on the market. Tyrus Thomas, when healthy, can contribute. Bismack Biyombo is something. There are good things to be found. Not many, but some. Gerald Henderson looks like a legit wing in the making.
And despite all this, the Bobcats are professional. They're terrible, they're awful, they have no reason to do anything resembling effort, but there the effort is. You can mock them, you can deride them, you can crush them. But every night those guys walk on the floor and play, knowing they're going to get crushed and they still show up for work. That's more than a lot of people in this country do.  It's better to try and be horrible than to not try and be mediocre. That's why it's easy to say the Bobcats are in a better position than the Wizards. Their star player isn't underperforming because he doesn't exist. There's freedom in how low they are.
It's going to take a long, hard journey. But all it takes is one look back for the Bobcats to realize it can only get better from here.
Statistical support for this story from NBA.com.