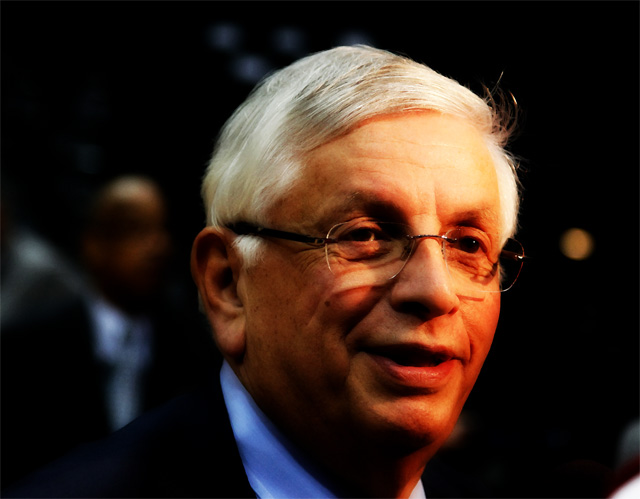 This isn't the David Stern we thought we knew. Or maybe it's not the David Stern he wanted to be. Or maybe it's not the David Stern who actually is David Stern.
The National Basketball Association has been under the care of Stern since 1984,with Stern having worked with the league in some capacity since 1966. Through that time he has ushered in the golden age of Bird vs. Magic, repaired a disastrous relationship with the television networks into a lucrative multi-platform product, and heralded in the Jordan Era, revamping the league's entire marketing direction behind a single, colossal force. It is not a stretch to say the NBA would not have survived had it not been for Stern. You can point to Jordan's ascendance as the saving grace, but someone at the top had to recognize what Jordan could do for the league and to have the fortitude, intestinal or otherwise, to put the full force of the league behind one player, no matter the cost.
David Stern saved professional basketball. And now there are many who think he has tried to kill it.
Stern implemented the dress code policy for players not in uniform, a divisive policy that did what it was intended, eased the image problems the league faced in the late 90's and early 2000's. Was it fair? No. Like most policies for any company, it was a bummer. Stern and the owners staged the first lockout in 1999, needing a last-second deal to salvage a protracted season. Then 13 years later, he pulled the same maneuver, only with a more draconian approach. The lockout that cost the league 480 regular season games is famous for a lot of reasons. "How U," mutant pizza, "enormous consequences," and a host of memes. But perhaps none moreso than the hit Stern took to his public image and legacy.
What's stunning is that no one's really clear on what happened in the lockout. A lot of writers, big name writers with national support, spun Stern as the NBA's version of Mr. Burns (making Adam Silver Smithers, a disservice to his leadership and intellect). He was described as borderline evil, an egomaniac hell-bent on destroying the players he had no regard for, he was accused of waging a personal war on the happiness of players. Others categorized him as nothing more than a puppet, a slave to the whims of a new era of ownership which would do what it wanted regardless of Stern's influence. He was either out to get the players and put them back in their place in a non-in-any-way-subtlet racist domineering, or a feckless thug obeying the will of billionaires without hesitation or reservation.  So, no, the lockout did not put him in a good light.
But it was over, right? He could repair the damage and move on.
Except the Hornets.
The freaking Hornets.
George Shinn bought a team, made a mess of it, abandoned a great market in Charlotte that once upon a time in Carolina harnessed that state's phenomenal passion for basketball, and moved it to New Orleans. Then he proceeded to drive it further into the ground, financially and basketball-wise. When Hurricane Katrina forced the team to play in Oklahoma City for part of the season, there were obvious signs that Shinn was thinking about filing for a new zipcode again. Shinn was generally regarded in the bottom five for NBA ownership. He wanted out. In a hurry. Health reasons sealed the deal. He would dump the team and the NBA threw the franchise and the city a bone by purchasing the team. The NBA did it to save face, but it should be noted, if it wanted the problem to go away quickly, if it wanted to simply resolve its issues, it could have tossed Larry Ellison a $325 million pricetag, taken a bath on the buyout of Shinn, and wiped its hands clean on the faces of Hornets fans.
The league did not, has not abandoned New Orleans.You're not going to find that narrative hanging about many places, but it's true.
The result, however, is that Stern was left with managing the franchise during a very delicate situation, the Chris Paul trade. You know what happened, I don't need to fill you in. Stern vetoed the trade. Just a few notes on that situation.
Stern didn't want to trade Chris Paul. Dell Demps didn't want to trade Chris Paul. Monty Williams didn't want to trade Chris Paul. The other NBA owners as investors in the New Orleans Hornets did not want to trade Chris Paul. The other NBA owners who had made significant financial concessions from their master plan in pursuit of granting small markets the ability to retain their own players did not want to trade Chis Paul. You know who wanted to trade Chris Paul? Chris Paul.
In what has become one of the great "if stupid people say it enough times, it becomes reality" stories of the year, it's become popular storytelling that the trade was done, completed by both teams and when submitted to the league, Stern slammed down his big rubber stamp as commissioner and said "that's not fair because we hate the Lakers (or Rockets if that's your cup of tea)!"  People are unable to grasp the fact that somewhere in the chain of command, above Dell Demps is an ownership entity, shady as it may be, that had to approve it. Just like if you want to relocate your offices to a new building. You can have authority to research a new site, to contract out the construction, to get an estimate on total costs and a building plan, but you still need to go to the owner of the company and ask "Do you want to move here.'" Someone had to act as owner. And in the void of the other 29 NBA owners who you  definitely do not want making decisions for the Hornets along with their own, Stern became the face of the decision. It's plausible to believe Stern acted as the owner in this capacity because any basic understanding of the chain of command will tell you someone had to.
So Stern rejected the trade, and that, more than anything else, has harmed his legacy. That's right, he oversaw a league that lost games in two seasons within fifteen years in the modern era of sports media and turning down a trade which was not in the best long-term interests of a rebuilding club (as evidenced by any successful rebuilding project in the last thirty years) is the big black mark on his legacy. And it is. He should never have been in that position. It was a conflict of interest for Stern to be making those decisions, even if his own interests do not run in opposition to the Hornets. They should have been sold the moment the lockout ended, and if not, Dell Demps should have been granted autonomy. Maybe that wasn't in the best interest of the Hornets, but it definitely wasn't in the best interest of the league for it to remain in control of one of its franchises.
So the venom machine cranked up again. Not only does David Stern hate the players, he specifically hates Chris Paul and Kobe Bryant, and has a vendetta towards the Lakers for "basketball reasons." That's the new narrative. David Stern, anti-player.
There's just one problem. If you've done your research, that sounds patently insane.
—————————————————————————
Author David Halberstam wrote two NBA non-fiction books before his death in 2007. The first, "Breaks of the Game" serves as kind of a "before" picture to Jordan/Stern. It's built around the 1980 Portland Trail Blazers, but to put the season in context, touches on the overall health of the league. In short, it wasn't good. By comparison, his 1999 book on Michael Jordan, "Playing for Keeps" is the after-Jordan/Stern." It reveals the growth of the league alongside ESPN and how Stern's vision capitalized on the magnetic personality of Jordan.
Halberstam had an awe-inspiring ability to draw out perspective on people who are typically shrouded in mystery. Put simply, the guy worked on actual important things like the Vietnam War, and instability in third world countries, and 9/11. So no, sports was not a particularly daunting subject matter for him. In "Playing for Keeps," Halberstam has a passage about Stern that stopped me in my tracks while flipping through it this fall during the unending lockout.
"If there was one lesson he was learning, it was that the league was its players, nothing more, nothing less, and that the best of these players, white and black, were uncommon men. More often than not, they were self-made, some of them the first generation in their families ever to be a success. They were men who had often lifted themselves up by the hardest work to reach their lofty positions. In time, when Stern eventually became commissioner, that simple perception served him well. Because most commissioners in professional sports are chosen by the owners, they are to all intents and purposes little more than the owners' man, but Stern was different. He came in with such a love of the sport that even though he was very good with the owners and performed admirably for them, there was a large part of his soul that was always committed to the game itself — which meant it was committed to the players."
That sound like the bogeyman of Secaucus? Is it possible that Halberstam, Pulitzer-Prize winner that he was, whiffed that hard on characterizing the man? Is it possible that Stern could have shifted so greatly in 12 years? Did Ron Artest and the Malice at the Palace really break that kind of an approach to the sport he's been nurturing for 56 years? Doesn't seem likely, no. But that doesn't fit our need for a villain. And Stern, as slick as anyone you'll find on a television screen, filled the role of punching bag.
This comes across blatantly as an apology, a defense of Stern. But Stern is certainly worthy of criticism, as anyone is. It's just jarring how great the disconnect is between what perception of Stern's legacy is now relative to what it's been throughout his tenure as the caretaker of professional basketball. If we're running down the greatest mistakes of Stern's tenure within the past 15 years…
Not exerting enough institutional influence over ownership. The problem comes with the evolving idea that the commissioner is at the service of the owners of the league he presides over. But like an ombudsman's job is to bridge the gap between entities with a broader scope, the NBA's commissioner has a responsibility beyond that of just making his owners happy. He's a caretaker for the sport. David Stern is responsible for watching over the game of basketball at all levels, as head of the highest level of organized play. Not only should Stern not be beholden to the owners' whims (though he should certainly seek to address their concerns as entities within the game), he should actively seek to mold NBA ownership to the best possible model. That gigantic elephant in the room using the restroom is Donald Sterling. Stern has allowed poor ownership to run roughshod over the league, under the guise of "it's their team." But those teams make up the fabric of the history of the game, and as such, Stern's responsibility is greater to those teams than the owners. We get lost in the fact that owners will come and go, minute by minute, far too often. There are icons of ownership, to be certain. But eventually they will be gone and the teams, at least some of them, will remain.
Failing to find a transition from the Jordan model of single-market dominance to plurality of success. You can use Jordan to put yourself on the map, to boost you into the stratosphere of success. You can put all your weight behind the Lakers to get you through the rough times. But eventually you have to address the fact that at some point, the other 25 owners of the league outside of New York, Los Angeles, Chicago, and Boston are going to want to feel like they're not just here for the comfy box seats. Stern can't control on-court success, but the league has clearly marketed those teams nationwide to the detriment of its local clubs. We see it yearly. If the Grizzlies sold every night for Memphis like they do when the Lakers are in town, we wouldn't be talking about their relocation.
Not acting swiftly enough to resolve the ownership situation of the Hornets. The idea was simple, to get through the new CBA and use the improvements to get a better price on the sale. But once it became apparent that wasn't going to happen, the league needed to dump the asset. And if the other owners resisted, Stern needed to guide them back into the flock. Holding that asset is what allowed for the Paul trade to take place, and it continues to have an impact as agents and GMs struggle with trying to trade with the Hornets, even now.
Laying off as many employees as the league did during the lockout after one of the league's most successful seasons in a decade. People who had been working with the league for decades lost their jobs because the NBA wanted to make it seem like they were taking on water. The teams were suffering (mostly of their own devise) but the league had little reason to clean house other than to make a point.
Allowing negotiations to drag out so far as to necessitate two lockouts. There's just no getting around that being bad. Whether it was player insistence, owner stubbornness or plain old greed, Stern should have stepped in sooner, and more aggressively to both sides to avoid losing games. That's on his watch.
There are others. Small moments of oversight where the Commish's judgment failed in retrospect, but those are to be expected. The man's human. He's worthy of criticism, he's worthy of praise. But somewhere in all this, his legacy has become circumspect, and it seems more and more that Stern will retire not as the champion of a league that he brought to unprecedented heights when there were concerns for its very survival when he took the reins, but as some sort of twisted despot, trying to bring the game down around him as it passed him by.
Stern spoke with the Orlando Sentinel during the All-Star break and when asked about his legacy, his response was fascinating.
What do you hope your legacy will be?

I actually don't hope for a legacy. I think that it impedes your ability to make the hard decisions if you sit around saying how will this affect my legacy. You have to be willing to make difficult decisions and you know I think people will appreciate that as a CEO I worked as hard as humanely possible to guide this now enormous enterprise from the totally domestic $200 million business that it was to the global $5 billion dollar business that it is now that will hopefully set the stage for the next person to lead and continue the growth of this business.
via NBA David Stern: Sentinel Exclusive David Stern interview "I regret the 1998-99 NBA Lockout" – Page 2 – OrlandoSentinel.com.
Stern's approach is probably right. Looking at the big picture in terms of yourself is damaging. But Stern should consider his legacy within the context of the legacy of the NBA and how that's affected. And people should probably recognize that Stern is no demon, no monster hell-bent on crushing the soul of this league. He's a kid from Chelsea who worked in a deli coming up, and wound up working for a sport he genuinely loves. He's no more saint or demon than you or I. He's a guy who works in a job, and sometimes he does it well and sometimes he does it poorly.
Stern doesn't hope for a legacy, but more and more it seems that the league is dragging him by one throughout its history to the end of his.
(Image by Getty Images, slight adjustment by PBT for artistic effect.)