Most of today's NBA players grew up idolizing Michael Jordan (or for an older generation that played against him, respecting him).
But Jordan's stance as the leader of the hardline owners — even if he will not talk in negotiating sessions — led to some venom coming his way from players after the NBA's labor negotiations blew up again Saturday night.
The players see the hardline owners as the problem and Jordan as the target. Wizards guard Nick Young tweeted this: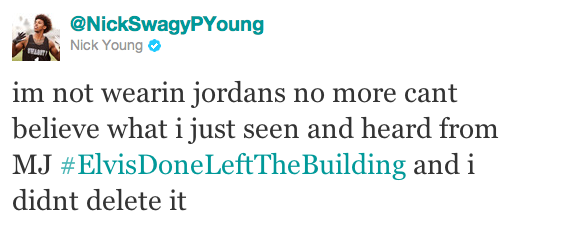 Then there is this conversation between Pacers All-Star Danny Granger and rookie Klay Thompson.
Granger: "Damn MJ. That's how you feel?"
Thompson replies: "You think the 1996 MJ would pull this? Straight hypocrite bro." (Note: Thompson has since deleted that tweet.)
Granger: "man straight hypocrite bro.. He should've been the 1st one behind us smh"
Calling Michael Jordan a hypocrite? That shows you how the rank and file players are viewing this thing. They may want to go back to work but don't for a second think they do not believe they are getting screwed.