Ty Lawson signed up to play in Lithuania while Billy Hunter and David Stern continue their ludicrous dance, the Nuggets point guard being one of the bigger name NBA players to jump overseas.
But the adjustment has not been easy. He wasn't getting a lot of minutes and has not put up big stats while playing for Zalgiris Kaunas (he was averaging 9 points and 2.3 assists per game through three games in 19.7 minutes per contest). It's a hard adjustment for NBA players over there — the style of play is different, the referees let a lot more fouls and physical play go, and that is on top of the cultural differences. Even he did get a signature free car it's not easy.
Lawson was clearly frustrated when he took to twitter Tuesday:
Those tweets were followed by him getting in some twitter fights with fans of his Lithuanian team, with Lawson saying he'd smack a guy who didn't think he played hard every game. He got a lot of racist tweets, too.
Then came the calls that he doesn't like his coach, which his earlier tweets implied but Lawson denied.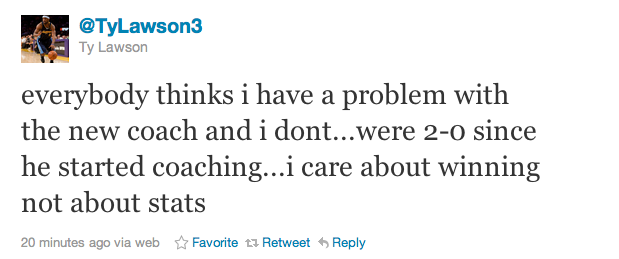 Lawson also said he isn't going anywhere. Well, not until Stern and Hunter finish their dance, anyway.