I know you were probably excited for the Team Melo vs. non-officially-but-pretty-much Goodman League in the exhibition next month. It's LeBron, and Melo, and Chris Paul, sharing a court against Kevin Durant and Brandon Jennings and the like.
But now, now we have a real reason for you to get excited. Ladies and gentlemen, from Hoopsworld: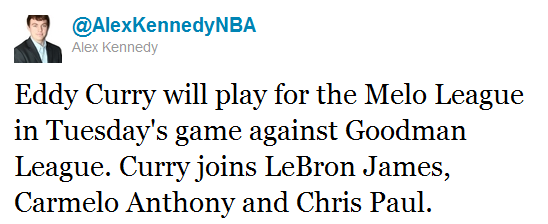 Are you excited? Can you smell that? That's the smell of a man who has lost 100 lbs. in the last six months. That's the smell of a man who's desperate to recover his career. That's probably the faint smell of bacon grease being sweat off after having been stored for two years.
Curry's being involved is great for his career. Getting in with James is the quickest way to pushing the Heat into signing him. Pat Riley will turn to him if he absolutely needs to but only if he has to. And if LeBron James says he has to, he has to.
Meanwhile, Curry could really have an advantage here. There are very few quality centers in the NBA, much less available on the open circuit. So Curry could put on a show and get some buzz for himself here. Good stuff for Curry in his comeback bid.