Darren Rovell of CNBC reports that Shaquille O'Neal, AKA the Big Diesel, AKA the Big Aristotle, AKA the Big Shaqtus, AKA the Big Shamrock, AKA Superman, AKA the Most Dominant Ever will be joining Turner broadcasting: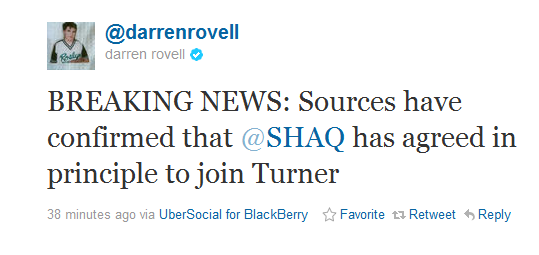 It's a natural acquisition by TNT given O'Neal's personality and popularity. O'Neal's also one of the more intelligent players  in terms of his approach to the game and knowledge. He's seen a lot in his time and can provide perspective.
Or, he can just be bombastic and loud. The trick is that Charles Barkley manages to be both. Which side O'Neal lands on will determine his success on the "Inside the NBA" studio. It's difficult to see O'Neal's low tones permeating the airways as a color commentator, but it might be worth a shot. His best work might honestly be in a feature capacity. Having him do on-site promos and videos with players doing wacky stuff is right up O'Neal's alley. Hopefully O'Neal's addition won't push Webber off, as he's been downright brilliant in his time there. You can also bet O'Neal will do his fair share of independent programming, and don't be surprised if Turner slots him for a full show development deal. That's how big his personality still is.
Man, Barkley and O'Neal on the same studio set. Wonder if this will happen again: