Friday, Amar'e Stoudemire posted the following on his Twitter account: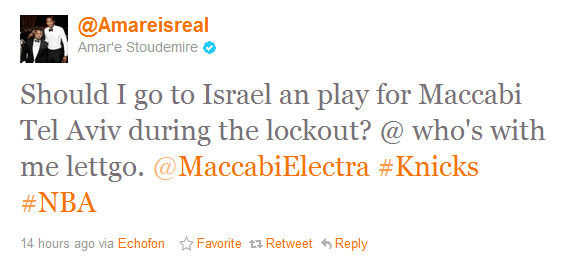 So, apparently, STAT's considering a move to Israel to play during the lockout. You'll remember Stoudemire's time spent in Israel last summer discovering his roots. Stoudemire has Jewish ancestry and has shown a keen interest in Israel. Maccabi Tel Aviv is a powerhouse in Israel from all accounts, with five European championships, and 49 Israeli Championships. Their payroll is considerable so they would likely be able to make Stoudemire an impressive offer. Two fringe NBA players currently playing for Maccabi Tel Aviv are Richard Hendrix, former Warriors draft pick, and Jeremy Pargo, Jannero's bro.
Stoudemire joining Deron Williams overseas would create quite the ruckus. With Stoudemire's injury concerns, Knicks fans would be apoplectic about him playing overseas, potentially risking his career in a foreign league and applying pressure to James Dolan to exert his influence as the owner of one of the biggest NBA franchises.
Here's an out of the box idea for the player's union. Obviously there won't be offers for all of the NBA players to play overseas. But those that are going are getting paid pretty well, even if it is a fraction of what they make in the NBA. Imagine if Deron Williams or Stoudemire kicked in 50% of their earnings to a fund to be distributed to the rest of the locked out players. Williams could easily live on $100,000 and still make enough to continue his investments without reaching into his savings. Splitting that combined money off would show solidarity among the players and would create a real lifeline for the entire union. If they want to "STAND" together, they need to put their money where their mouth is. Doing so might break the owners' group and put the players back in the driving seat.
Expect FIBA to come along and screw all this up in the next few weeks to stay in the league's good graces.