So, about all the rumors and innuendo regarding Pau Gasol's personal life and how it affected the end of his season. You'd expect most members of the Lakers' organization to remain silent about the issue. I mean, after all, talking about it, in any context, is only going to make things worse. You don't want to exacerbate an already sensitive situation by drawing more attention to it. The media, paparazzi and yes, fans already do a good enough job bringing undue attention to minor situations and blowing them out of proportion. So it's good that the Lakers have all exercised restraint in what I'm sure is a flurry of seedy allegations and preposterous rumors… crap.
From Shannon Brown on Twitter last night: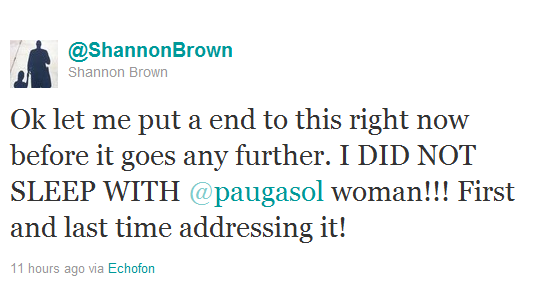 Well, done, Shannon. No one was really asking you that publicly, and if they were, we'd consider them to be idiots, but in making a bold, late night denial you've just added more fuel to the fire. As a side note, you may want to consider stressing your use of the possessive in instances such as this, as taking this tweet literally leads us to believe you did not sleep with that "Pau Gasol woman." Which we're pretty sure is not what you meant. If it is, then we have a whole other heap of stuff that we don't want to talk about.
In Shannon's defense, this does seem to be endemic of what's been going on with him and the Lakers this month. Got ahead of themselves, didn't think the situation through, fired something up, and missed a key element. In unrelated news, Peja Stojakovic has zero typos over the last month and a half.
Oh, well, Shannon, whatever gets you through the offseason.