There's no making some Knicks fans happy, they expect the team to win two Larry O'Brien trophies a season and anything short is a failure.
But it's more than the losing that is making them unhappy lately. Talk to Knicks fans, check out the message boards and you hear that it's the way they are losing. The Knicks have become boring. The new Knicks are not good AND not entertaining.
It's because they stopped running, Jeff Fogle points out a Hoopdata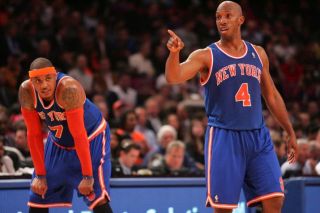 .
Which is basically what Amar'e Stoudemire was saying a few days a go when he begging the team to get back to playing Mike D'Antoni's offense.
For the season, New York is one of the fastest teams in the league, clocking in at 98.2 possessions per game though Sunday….. The last three entries on the log Monday afternoon…92-92-92.
The Knicks are slowing down as a team, he points out, again using possessions per game data:
98.2 for the season (second fastest in the NBA)
96.5 the last 15 games (since the trade)
95.4 the last 7 games
92.0 the last 3 games
Those last three games were before the loss to Boston Monday. Hoopdata (which counts the possessions) has not finished its analysis, but the estimated possessions (used by sites such as Basketball-Reference) have that game at 87 possessions. So even slower. It felt that way if you watched it.
That, folks, is a trend.
Let's not blame this all on Carmelo Anthony — Denver ran an up-tempo game when he was in Denver. Same with Chauncey Billups. But something is going on with the changes in New York that is dragging the pace down to seven seconds or more.
And it is one reason, maybe a big one, the Knicks are 1-6 in their last 7 games.