Perhaps you're familiar with NBC's hit comedy "Parks and Recreation" (9:30 p.m. EST Thursdays on NBC- MEGA-PLUG). Perhaps you're familiar with the season premier last week in which the Parks Department was forced to operate a youth basketball league on a shoestring budget. And perhaps you're familiar with head coach Ron Swanson's Pyramid of Greatness. But if not, check it out:
[vodpod id=Video.5393968&w=425&h=350&fv=]
And that my friends, is awesomeness.
Which got me thinking. What could NBA teams take from the Swanson Pyramid of Greatness? And who best fits the model of Swanson greatness? Let's go to the tape, Bill! (You can be called Bill for this exercise. Or if you'd prefer, Duke Silver.)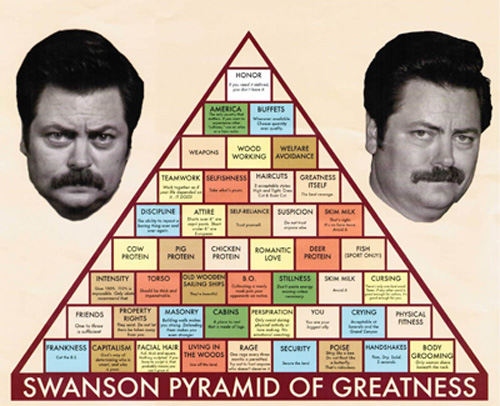 "Body Grooming: Only women shave beneath the neck." Carlos Boozer approves.
"Handshakes: Firm. Dry. Solid. 3 Seconds."  Gary Neal needs to work on this.
"Poise. Sting like a bee. Do not float like a butterfly. That's ridiculous." Dwight Howard should pretty much have this tattooed on his forehead. Between the technicals and his penchant for floating like a butterfly in the post, maybe big block letters. Nice strong font.
"Rage. One rage every three months is permitted. Try not to hurt anyone who doesn't deserve it." By this value, Kevin Garnett has violated the pyramid… approximately 7,458,082 times.
"Facial Hair. Full, thick, and square. Nothing sculpted. If you have to sculpt it, that probably means you can't grow it."  Good on this measure: Baron Davis, James Harden, DeShawn Stevenson. Bad on this measure: Pau Gasol, Reggie Evans, Brian Skinner.
"Capitalism. God's way of determining who is smart, and who is poor." In the NBA, this translates as "Stern's way of determining who are the Lakers and who is the Grizzlies."
"You. You are your biggest ally." Kobe.
"Perspiration. Only sweat during physical activity or love making. No emotional sweating."  Also Kobe. Dude is cool as a cucumber. Probably smells like fresh laundry after the Finals. Conversely, Shaq seems to sweat more in conjunction with how upset he gets at calls. You'd think he'd sweat the weight off. You'd be wrong.
"Masonry. Building walls makes you stronger. Defending them makes you even stronger." Danny Granger. Nothing stronger than the Bat Cave, right? On the other hand, the Warriors should pay more attention to this. Maybe hire some masons. Can't defend any worse.
"Friends. One to three is sufficient." C'mon. Do I have to spell out L-E-B-R-O-N for you?
"Stillness. Don't wast energy moving unless necessary." Have you ever seen Sasha Vujacic try and defend? It's like watching an epileptic watch "Tron."
"Old Wooden Sailing Ships. They're beautiful." Admit it. You can imagine Ron Artest saying this.
"Torso. Should be thick and impenetrable. " Perhaps if Bosh adhered to this principle he'd be able to guard actual frontcourt players. On the other hand, Kevin Garnett once described defending Tim Duncan as "trying to guard a tree."
"Intensity. Give 100%. 110% is impossible. Only idiots recommend that." That's a very Phil Jackson thing to say. And his Lakers give 100% nearly 80% of the time. Conversely, maybe if the aforementioned Kevin Garnett adhered to this principle, not as many people would think he's a jerk.
"Deer Protein." Brad Miller. Obviously.
"Suspicion. Do not trust anyone else." Stan Van Gundy has a giant poster of this on his office wall.
"Self-Reliance. Trust yourself." Ironically, this is Vince Carter's favorite element.
"Attire. Shorts over 6" are capri pants. Shorts under 6" are European." John Stockton is offended, sir. Meanwhile, Allen Iverson asks what a capri is.
"Discipline. The ability to repeat a boring thing over and over." UBUNTU.
"Greatness Itself. The best revenge." Derek Fisher invites all you point guard aficionados to check his bling.
"Selfishness. Take what's yours." This will be J.R. Smith's 900th tattoo.
"Teamwork. Work together as if your life depended on it… IT DOES!" This is actually from the Utah Jazz handbook under Jerry Sloan.
"Wood Working." Kevin Love believes strongly in this. You know, since all he does is get boards. Wocka-wocka-wocka!
"Weapons." I bet you're thinking I'm going to make a Gilbert Arenas joke here. … Okay, yeah, I was.
"Buffets. Whenever available. Choose quantity over quality."  Glen Davis liked this so much he tried to suck on it like a hard candy. Then he spilled drool all over the rest of the pyramid. It was awkward.
"Honor. If you need it defined, then you don't have it."  This should replace the logo at center court.
"Parks and Recreation" stars on NBC every Thursday at 9:30 p.m EST right after "The Office."