When David Lee's elbow collided with Wilson Chandler's face, we thought Chandler got the worst of it — and he didn't get off lightly, unless you're a masochist and four hours of dental work sounds like fun to you.
But that's a whole lot better than what Lee has gone through, as Lee detailed in a fantastic story by Sam Amick of FanHouse.
"I had a shot before the game (Tuesday)," he said after finishing with 10 points, 11 rebounds and four assists in 30 minutes as the Warriors broke their seven-game losing streak. "Just (being) on a back-to-back (after a loss at Utah on Monday night), it was tough to get back at it tonight. The theory (regarding the injury) is that in a couple weeks it's going to heal up completely, but I stress the word 'theory.'"
Two surgeries, an infection, countless shots of painkillers and antibiotics, and it still looks like this (twitter photo by Marcus Thompson of the Bay Area News Group):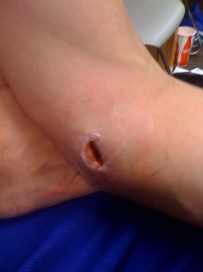 Gross. The injury has to heal from the inside out, so it is going to stay like that for a while and Lee is going to have to get shots and play through the pain.
How serious did this get? Very. Career threatening very. His elbow swelled up to twice the size and doctors were stumped.
"They tried four or five antibiotics, but nothing was helping," he said. "Just after the first surgery, we thought everything was good. They cleaned it out, and then (the infection) came right back and (the doctors) said there was nothing to counter the bacteria."

And if the bacteria couldn't be countered, Lee was told, a drastic measure would have to be taken.

"Before they found the right medicine, which was kind of a one in a million thing, they were talking about possibly having to cut out my tricep muscle in my forearm," Lee said. "It could've been something where I never played ball again."
Lee will take the pain over that. But Chandler did not get the worst of this by a longshot.