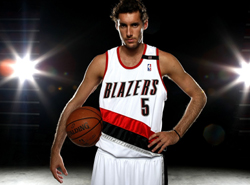 Rudy Fernandez has not been popular in Portland this summer. Primarily because he said he didn't want to be there anymore, said he wanted to be in Europe and had an agent publicly pushing for a trade.
But you know, aside that it's all puppies and rainbows.
Jason Quick of the Oregonian wrote what a lot of Portlanders have been feeling recently. The article may have crossed the line — Fernandez is there and balling — but it spoke for a lot of people.
Gerard Darnes, the European agent for Fernandez, came out returning fire for his guy in Portland Wednesday. First he went on 95.5 FM's "Morning Sports Page" and said you can't blame someone for having the desire to be somewhere else (not so sure about that) and that Fernandez has been in camp and professional through this (that is true).
Then in the afternoon Darnes sent a letter to members of the Portland media, which you can read the highlights of here (as posted by Blazers Edge):
First of all, I don't think anybody has the right to make fun or joking about a human being wishes and desires, and nobody can evaluate how fine or how sad a human being is being far from home, friends and culture. Nobody can blame any little thing about Rudy practice and attitude. He has been playing in every practice that he could.

He apologize to the staff and to the owner if anything he said hurted them during the summer… Also, as he said, is not getting used to the NBA system, he likes the European style of game better.

In my personal opinion, NBA and the Union have to find new rules that adjust the relationships between NBA franchise and the rest of the world.
Mr. Darnes, think what you want of the Oregonian article, there are some underlying things here: Fans are emotionally invested in a team so when you say you don't want to play for a franchise, that is taken as a personal insult. Blazers fans love Portland and the team that your client wants nothing to do with. That after signing a contract that committed him to them. That feels personal on some levels.
Second, Fernandez is being paid very well. The Trail Blazers have lived up to their end of the deal — he has been paid more than $2.2 million total the last couple years and will make another $1.2 million this year. That's a lot of scratch. It's hard to be sympathetic with a guy making 20 times what you are and then complains about his situation.
Just so you are clear where everyone is coming from.