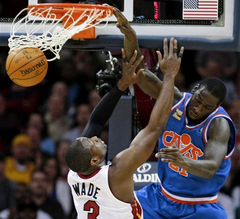 Byron Scott's biggest challenge… let me rephrase that because Scott has a multitude of challenges taking over the post-LeBron Cavaliers.
One of Scott's biggest challenges is the four spot — the proven veteran Antawn Jamison or the future of the team at the position, JJ Hickson? While it is not a totally either/or situation, the fact is it will be hard to play those two at the same time so Scott needs to figure out a rotation that works.
Round one goes to Hickson. Barely.
Coming off the bench in the Cavaliers preseason opener Hickson put up 17 and 9, pretty nice numbers. Much better than the starter Jamison, who had 4 points and 8 rebounds in 21 minutes.
Jamison struggled, he was 1 of 9 from the floor, 0-2 from three. It was not pretty at all.
But this was not a clear win for Hickson, who was just 5 of 13 from the floor (38 percent), which is doubly bad because Hickson cannot stretch the floor. If you're shooting close to the basket only, you have to do better. His midrange game improved some last season, but his money is made getting points in the lane. An off-season spent working on post moves did not show itself in the Cavaliers first game.
If the Cavaliers really are going to get out and run as Scott has promised, Hickson should benefit because of his athleticism and ability to finish around the rim. Should. But Jamison is a veteran who is not going to be 1-9 most nights, and when you need to stretch the floor he has to be your guy.
The idea of playing them together may get tried but likely is a defensive disaster — neither is going to be able to guard threes in this league well. You'd need a very specific matchup for it to work.
Byron Scott, I do not envy your choices here. We'll see what he throws out on Thursday as a starting lineup. He is allowed to go mad scientist with his experimenting, he has nothing to lose.