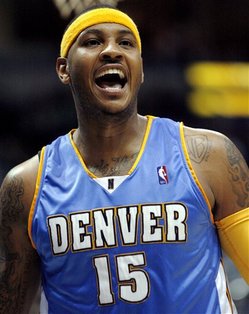 The Nuggets are asking a lot for Carmelo Anthony in a trade: good young players and draft picks for the future, enough established talent to keep them in the playoffs now, plus cap relief that keeps them below the luxury tax. And a date with Scarlett Johansson. And a DeLorean that can travel through time.
They're asking too much, and according to Ken Berger of CBS they are finding teams do not want to pay that steep price.
"They're still banging away at this," said one of the people with knowledge of the discussions. "But the well has dried up a little bit."

The four-team deal involving the Bobcats and Jazz, in which New Jersey was sending No. 3 pick Derrick Favors and two first-round picks to Denver, died partly because the Nuggets were intent on trying to squeeze additional assets out of the trade and also because Denver officials were shopping the proposal around in pursuit of a better deal. Additionally, Kirilenko wound up being what one person involved in the process termed "a deal-breaker" due to strong signals that the Russian swingman was not interested in playing in Denver and was cold to the idea of signing an extension there.
Rule number one of trading a star is you don't get equal value back. If you get some prospects and picks you use, people may say it's not that bad someday despite the initial reaction (see Pau Gasol trade from Memphis) but in the best of circumstances you lose out.
Denver wants to lose nothing. Which means they could lose everything. What they don't want to do is call Anthony's bluff about not singing an extension with the Nuggets and seeing if he'll risk less money under a new CBA to leave.
Other teams know that. As time marches on, they will offer less and less, thinking that Denver will not have an option but to accept.
Berger goes through a list of deals out there and why they won't happen — Bulls, Clippers, Pistons, Cavaliers, Sixers, Knicks — but how each might be added as a facilitator in the four-team deal that sends Anthony to New Jersey.
Where he might not even be willing to sign an extension… so it all comes back to Denver and Anthony both sitting down and both giving a little to get something that works for both of them. You know, compromise. The thing they stopped doing in Washington D.C. but that normal adults do every day.