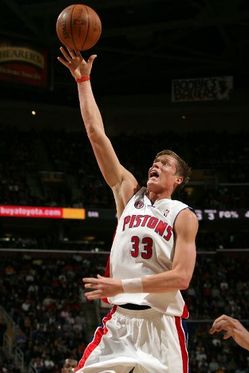 UPDATE 5:45 pm: The news is bad — a torn Achilles, which means surgery and 5 to 6 months of recovery, according to a tweet from the official Detroit Pistons account.
That will have the second year forward back sometime after the All-Star break.
8:40 am: Jonas Jerebko got the start for the Pistons at the four in their first preseason game. Not Jason Maxiel or Charlie Villanueva, but second-year player Jerebko. And he made the most of it with a nice put back and a couple early rebounds (oh, and three quick fouls).
But after seven minutes he was done for the night and after the game he was on crutches with an Achilles tendon injury, according to the Detroit Free Press.
He will be re-evaluated on Wednesday but Pistons.com said the "immediate outlook isn't good." He also suffered a shoulder injury, the initial reason he came out, but that seems to be lesser of the two issues.
Combine this with the injury to Terrico White and it all seems a little too familiar for Pistons fans. Last season the roster was decimated by injuries. This season two players — one a starter — go down in the first preseason game. Not the start to the season Detroit fans had in mind.